90% of SSL VPNs use insecure or outdated encryption, putting your data at risk
Tuesday, February 23, 2016
Read Time:

2 min.
Have you ever thought how secure and reliable your SSL VPN? Probably you should.
In December 2015, we conducted a research on SSL/TLS encryption of the largest public email service providers that helped several large companies to improve the quality and reliability of their email servers SSL/TLS encryption. Encryption becomes vital these days, largest companies such as Google, perform daily security awareness about its importance.
This is why we recently decided to investigate the current state of affairs on SSL VPN (Virtual Private Networks) market. In order to do so, High-Tech Bridge conducted a large-scale Internet research on live and publicly-accessible SSL VPN servers. In a non-intrusive way, we have scanned 10'436 randomly selected publicly available SSL VPN servers (taken from a scope of 4 million randomly selected IPv4 addresses) from the largest vendors, such as Cisco, Fortinet and Dell.
The results were sadly impressive, showing that many people still consider SSL/TLS encryption as something applicable to HTTPS protocol only, forgetting that such vital Internet services, as email or VPN also rely on it.
Let's have a look on the key findings from the research:
At High-Tech Bridge, we have developed our own score-based system to grade reliability and security of SSL/TLS encryption. For this research, less than 3% of tested SSL VPNs got the highest "A" grade, while almost 86% got lowest failing "F" grade: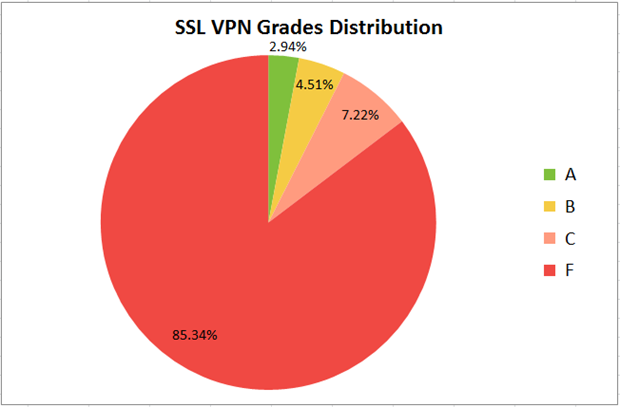 Ilia Kolochenko, CEO of High-Tech Bridge, comments: "Today many people still associate SSL/TLS encryption mainly with HTTPS protocol and web browsers, and seriously underestimate its usage in other protocols and Internet technologies.
At High-Tech Bridge, we provide a free online service to enable anyone to check security, reliability and compliance of his, or her, SSL/TLS connection. Our service supports any protocols that rely on SSL encryption, so you can test your web, email or VPN servers with it.
Since its launch in October 2015, already above 130'000 tests were performed, helping thousands of people to improve their security. In the near future, we are going to release more free services designed to make global Web a safer place. Stay tuned."
As you can see from the above, a lot of things can be done to improve reliability and security of SSL VPNs. If you want to test how secure your SSL VPN is, you can use our free online SSL/TLS server test.