Is cyber espionage really the 'worst' threat to Enterprise 2017?
Thursday, March 16, 2017
Read Time:

2 min.
New research claims espionage is the key fear for businesses, but actually ransomware losses seem far more likely
New research has indicated just how under the cosh global organisations feel they are, with a 20 per cent ranking cyber espionage as the most serious threat to their business, and more than a quarter (26 per cent) struggling to keep up with the accelerating threat landscape.
Perhaps particularly indicative of the latter trend is the fact that in spite of rising ransomware volumes and indeed business victims, enterprises remain unconcerned by the possibility of a ransomware incident, and far more worried about the more nebulous espionage threat.
The latest research from Trend Micro did find that one in five US organisations have suffered a cyber espionage-related attack in the last year, and general FUD (Fear, Uncertainty and Doubt) was high across Europe too. Businesses in Italy (36 per cent), France (24 per cent), Germany (20 per cent) and Netherlands (17 per cent) topped the list for regions who fear cyber espionage the most, possibly linked to upcoming elections in these nations. Eight out of 10 countries cited the increasing unpredictability of cyber criminals (36 per cent overall) as one of the three biggest challenges to protecting against cyber threats.
Ilia Kolochenko, CEO of High-Tech Bridge pointed out that fear should not be allowed to get the upper hand over pragmatism: "Cybersecurity awareness, additional security assessment and hardening of the critical national infrastructure is definitely a good move. We should all be aware of the risks associated with modern technologies, such as e-voting and mobile voting, especially the risks related to such an important process as a presidential election.
"However, I seriously doubt that any cybercriminals can change the results of elections in well-developed European nations. We should not exaggerate the risks, but instead perform an objective and holistic assessment of the risks to implement appropriate and reasonable mitigation."
The Trend Micro research, which surveyed 2,402 enterprise IT decision makers across Europe and the US, shows cyber espionage topping the list of largest security concerns for 2017, followed by targeted attacks (17 per cent) and phishing (16 per cent).
According to the research, almost two-thirds (64 per cent) of businesses experienced a 'known' major cyber-attack in the past 12 months, with the average being four. Among this group of respondents, ransomware was by far the most common threat reported, with 78 per cent claiming to have been attacked at least once in the period. In fact, only 16 per cent of those who had experienced an attack had not suffered a ransomware attack. Trend Micro reported that ransomware variants had increased 752 per cent in 2016 alone, resulting in $1bn in losses for enterprises worldwide.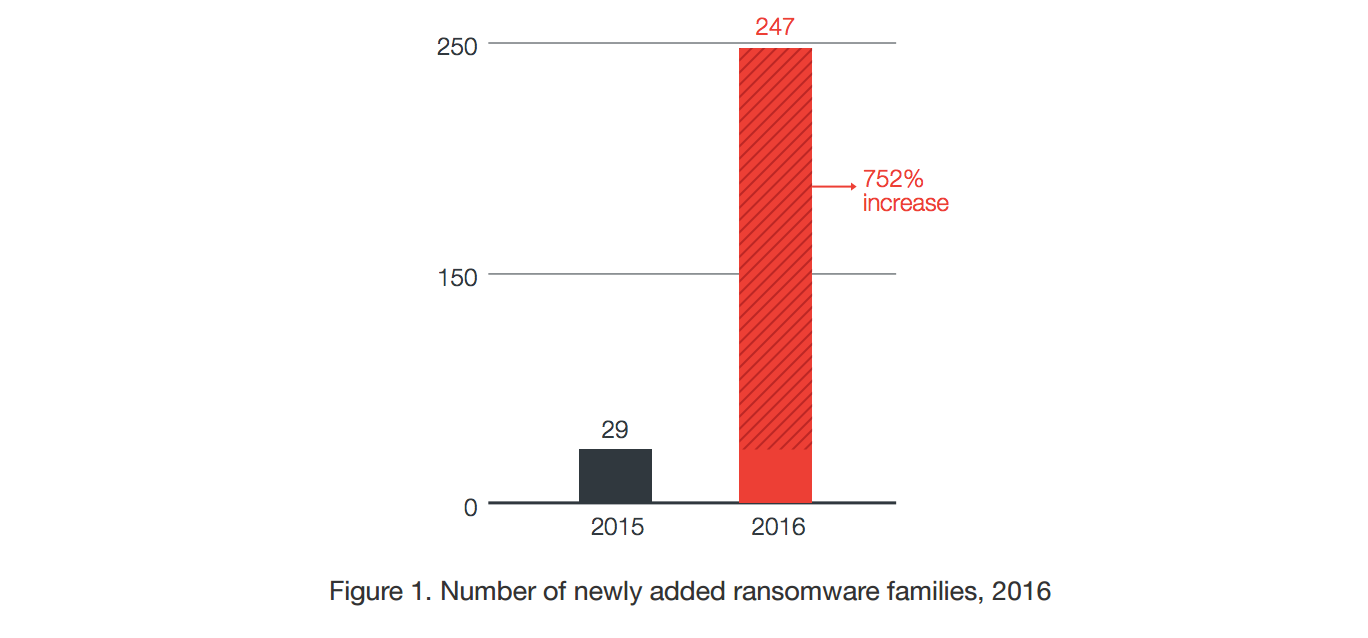 Interestingly, Trend Micro projects that ransomware families will grow a further 25 per cent in 2017, but found in surveys that a mere 10 per cent of organisations are concerned about the threat in 2017, suggesting that there is plenty of opportunity for education around ransomware.
As High-Tech Bridge advised recently, here are six key steps to avoid paying out to ransomware.
Maintain a comprehensive and up-to-date inventory of all your digital assets. You cannot defend what you don't know.
Make sure that you have implemented proper access control and segregation to prevent domino effect triggered by a single compromised device.
Implement continuous monitoring of your physical and virtual IT infrastructure, software and security patches, as well as of new threats and malware targeting your industry.
Create and regularly test a Disaster Recovery Plan (DRP) that will allow you to mitigate loss of any critical data in a reasonable timeframe, and at a cost compatible with your corporate risk appetite.
Invest in security training and awareness programs to educate your employees, key suppliers and partners.
Verify that your approach to cybersecurity and risk management is based on common sense principles, which your C-level fully understands, shares and practically supports.