ITSecuDay Geneva 2013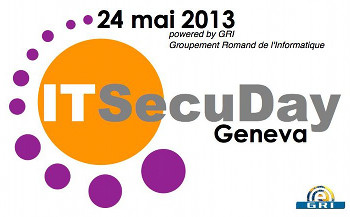 High-Tech Bridge participates for the second time at
ITSecuDay Geneva
as a Gold Sponsor of the event. The event will gather leading security experts from Geneva to discuss the latest trends in information security. Among the speakers there will be Albin Baptista, President of GRI; Antoine Berthaut, PricewaterhouseCoopers; Yann Chalencon, Wyzlinx; David Coomes, IATA; Xavier Garcia, Givaudan.
ITSecuDay Geneva 2013 will take place:
On the 24th of May 2013
08:45AM - 17:00PM
Hotel Bristol Geneva
10 Rue du Mont-Blanc
Geneva, Switzerland
Event program is available
here
. To participate at the event please follow the
Registration
.
High-Tech Bridge customers will receive free invitations. For more information please contact your Project Manager or our Marketing Department: +41 22 560 68 42 to receive the invitation. We look forward meeting you on the 24th of May!