The eCom 2012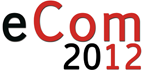 High-Tech Bridge, official sponsor in Business IT at the
eCom 2012
exhibition, will introduce its areas of expertise and will use this opportunity to highlight and present our added values in the market of
computer security
.
This is the biggest IT event in the French-speaking part of Switzerland in 2012 and will bring together business leaders, e-tailers, project managers, webmasters, marketers, IT, logistics in order to present you with a unique opportunity to meet experts in the areas of IT.
"ECOM 2012 - SALON SUISSE DU E-BUSINESS"
This event will be held on the 24th of april 2012 from 09:00AM to 18:30PM
At the Centre de congrès - Geneva Palexpo
Route François-Peyrot 30
1218 Le Grand Saconnex / Genève – Suisse
Tel : + 41 (0)800 804 408
High-Tech Bridge will give an exclusive lecture on "the weaknesses of Web applications" which are today's weakest link in computer security and are still the favorite targets for cyber criminals:
« Du E-Commerce au C-Commerce»
de 11h20 à 12h10, room L


Registration is free and is available online
here
.
High-Tech Bridge
Ethical Hacking
and Sales departments are looking forward to meet you there!
Last update on 29 May: Photos are available on our
Facebook page
.