Frost & Sullivan names High-Tech Bridge the most innovative AST vendor
April 24, 2017
Frost & Sullivan's market research distinguishes ImmuniWeb® as the most innovative solution on today's Application Security Testing (AST) market.
Frost & Sullivan's Market Research "How Machine Learning will Strengthen the Web Application Security Testing Market" recognized High-Tech Bridge's Application Security Testing Platform ImmuniWeb® as a disruptive innovator in the application security testing market. The global Application Security Testing (AST) market is estimated to grow from $2.24 billion in 2016 to $6.77 billion by 2021, at a CAGR of 24.8%.
The research covers leading cybersecurity companies that use cognitive technologies, machine learning or elements of Artificial Intelligence (AI) for application security testing, such as IBM and HPE. High-Tech Bridge's ImmuniWeb® leverages the power of supervised machine learning technology for intelligent automation of web and mobile application security testing, bringing unbeatable price/quality ratio to the emerging market.
The efficiency of ImmuniWeb's technology was singled out by Frost & Sullivan's research experts, whose conclusions were corroborated by independent experts from several companies, including PwC. The research provides detailed infographics of the Application Security Testing market, where High-Tech Bridge is currently the most disruptive and innovative vendor according to F&S: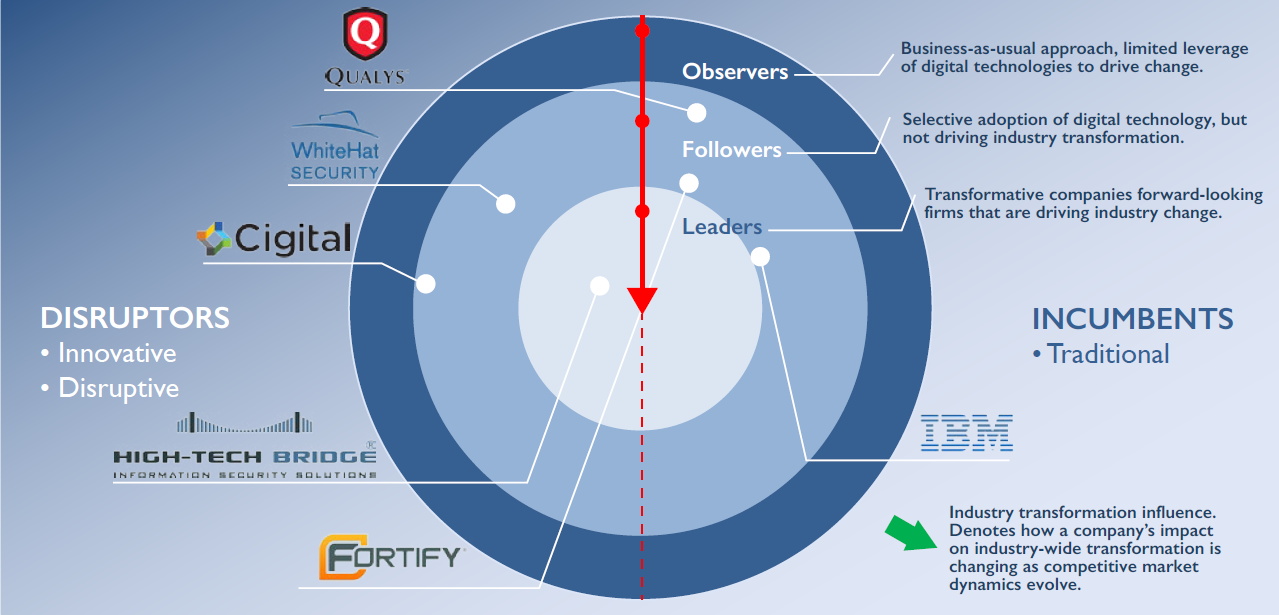 Frost & Sullivan: Web Security Testing Ecosystem Matrix, Innovation Providers
Jean-Noel Georges, Global Program Director, Digital Transformation at Frost & Sullivan, comments: "Thanks to this 2017 research on machine learning, Frost & Sullivan has recognized High-Tech Bridge as the most innovative player on Application Security Testing marketplace."
Ilia Kolochenko, High-Tech Bridge's CEO and Founder, says: "We are delighted to add this important recognition to our awards portfolio. Frost & Sullivan is an important player in the security research market, and its opinion is important for many of our partners and customers. At High-Tech Bridge, we continuously improve our technology to deliver more efficiency and value to our customers. We believe that no technology can currently replace human, however human can optimize many of the existing technologies, boosting their performance and efficiency via intelligent automation. Our mathematicians, machine learning experts and security engineers are working on these exciting tasks every day. More great features and announcements are to be released in 2017, please stay tuned."