High-Tech Bridge launches ImmuniWeb® MobileSuite
March 7, 2017
High-Tech Bridge expands it award-winning Application Security Testing Platform ImmuniWeb® with comprehensive mobile app security testing offering.
High-Tech Bridge reinforces it Application Security Testing Platform ImmuniWeb® with ImmuniWeb MobileSuite designed to corporate mobile application security market. The new offering will provide comprehensive assessment of iOS and Android mobile applications, mobile infrastructure backend and data channel encryption. All ImmuniWeb MobileSuite packages are provided with a zero false-positives SLA.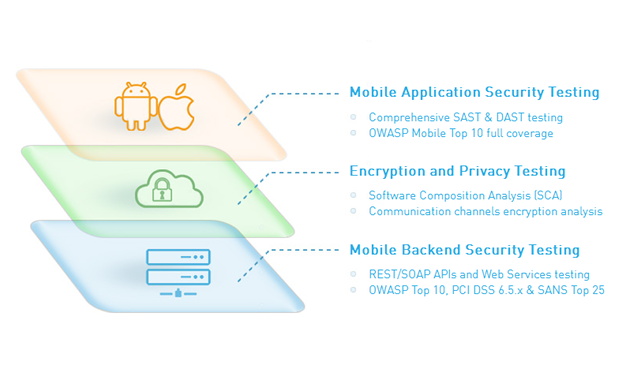 The mobile application security testing is based on High-Tech Bridge's proprietary SAST and DAST mobile testing technology, which fully covers the OWASP Top Ten Mobile Risks (2016); and is perfectly suited for both native and hybrid iOS and Android mobile applications. The technology also performs Software Composition Analysis (SCA) to detect insecure or vulnerable components putting users' security and privacy at risk.
The mobile backend security testing leverages the hybrid security testing model and proprietary machine learning technology of ImmuniWeb® Platform, and is particularly tailored for Web Services and REST/SOAP API testing. XML and JSON data formats are also fully supported.
The encryption testing between the mobile application and its backend relies on High-Tech Bridge's SSL/TLS security testing technology, already used by thousands of companies and organizations worldwide for encryption reliability and compliance testing (PCI DSS, HIPAA, NIST).
Ilia Kolochenko, High-Tech Bridge's CEO and Founder, says: "We are delighted to complement the ImmuniWeb® Platform with one of the most comprehensive mobile security testing offerings currently available on the market. Mobile applications, and particularly their backends, remain one of the easiest targets for attackers. Quite often, companies protect their web applications, but forget about mobile backends, reducing all efforts to nothing. Similar to ImmuniWeb for web applications, the mobile offering will be simple, comprehensive and cost-efficient: every ImmuniWeb MobileSuite package performs thorough testing of the mobile application, its backend and the encryption in-between. In comparison to three different types of services purchased separately, it provides an unbeatable ROI for those wanting to ensure that their mobile infrastructure is entirely secure."
Similar to ImmuniWeb Continuous and On-Demand for web applications, ImmuniWeb MobileSuite customers will be able to configure, schedule, pay and start the assessment on the ImmuniWeb Portal in just a few minutes from any device 24/7. Current ImmuniWeb customers can start using the new service immediately, while new users can pre-book their first assessment for the beginning of April 2017.
ImmuniWeb MobileSuite is primarily designed for European and US markets, however it will also be introduced into the APAC region via the strategic partnership with PwC Singapore announced in February this year.
High-Tech Bridge's team will showcase ImmuniWeb MobileSuite during Black Hat Singapore, CRESTCon, Infosecurity Europe, ISF Congress and Black Hat Europe later this year.