High-Tech Bridge named to OTA's 2016 Online Trust Honor Roll
June 14, 2016
For the fifth consecutive year, High-Tech Bridge is recognized for excellence in consumer protection, data security, and responsible privacy practices.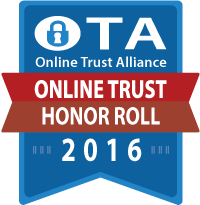 High-Tech Bridge is pleased to announce it has been named to the Online Trust Alliance (OTA) 2016 Online Trust Honor Roll for demonstrating commitment to leadership in best practices in security, privacy and consumer protection.
OTA, a 501c3 nonprofit organization that works collaboratively with industry leaders to enhance online trust, completed comprehensive audits analyzing nearly 1,000 domains and privacy policies, including approximately 100,000 web pages and more than 500 million emails for this report. The composite analysis included nearly 50 metrics focusing on site & server security, domain, brand, email and consumer protection and privacy policy and practices. High-Tech Bridge's award winning web security platform ImmuniWeb® is used by the OTA to conduct various web security testing and verifications.
In addition to the in-depth analysis of their web sites, Domain Name Systems (DNS), outbound emails, and public records were analyzed for recent data breach incidents and FTC settlements. Key sectors audited include the Internet Retailer Top 500, FDIC 100, Top 100 Consumer Services, Top 100 Media / Content sites, as well as OTA members and consumer facing US government sites.
Ilia Kolochenko, High-Tech Bridge's CEO and Founder, says: "We are proud that ImmuniWeb, our award-winning web security platform, is being used for the OTA Honor Roll global audit and scoring. At High-Tech Bridge, we are committed to make the Web a safer place, and we are excited that our SSL/TLS security, web security and phishing domain detection free online services are leveraged by OTA and its stakeholders."
Now in its 8th year, the Online Trust Audit and Honor Roll is the only comprehensive, independent online trust benchmark study. Started in 2008 as an effort to drive adoption of best practices, its objectives are to:
recognize leadership and commitment to best practices which aid in the protection of online trust and confidence in online services,
enable businesses to enhance their security, data protection and privacy practices,
move from compliance to stewardship, demonstrating support of meaningful self-regulation, and
promote security & privacy as part of a company's brand promise and value proposition.
Craig Spiezle, CEO and Executive Director of OTA, comments: "As a recipient of the Online Trust Honor Roll for the fifth consecutive year, High-Tech Bridge continues to demonstrate leadership and collaboration. By developing publically available tools and resources to help assess cyber, threats and challenges they are making a significant contribution to the safety and security of the internet."