High-Tech Bridge Launches VAR Partnership Program for ImmuniWeb® AI
June 13, 2018
The program enables MSSPs, IT security distributors, integrators and consultants to integrate ImmuniWeb® into their offering and expand their product portfolio.
High-Tech Bridge, a global provider of web and mobile application security, the Winner of SC Awards 2018 Europe in the "Best usage of Machine Learning / AI" category, announces a launch of an international Value Added Reseller (VAR) partnership program today.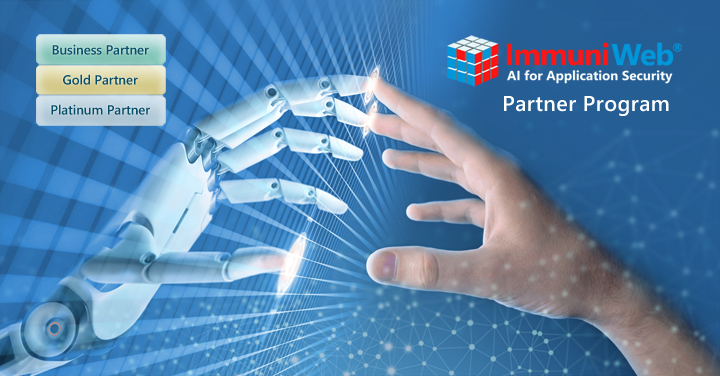 The VAR program enables MSSPs, IT security distributors, integrators, consultants and hosting providers to offer High-Tech Bridge's ImmuniWeb® AI products for application security testing, discovery and defense. Existing TAPs with the leading technology providers including F5, Imperva and Barracuda, will generate additional sales volume for the resellers with products of these companies in their portfolios.
The VAR program provides appealing incentives to continuously increase sales volume. High-Tech Bridge equally offers a highly competitive sales commissions to VAR partners thanks to its Machine Learning and AI technology used for intelligent automation of human intelligence and continuous cost reduction.
Additionally, an extensive marketing support program including compensation for joint marketing efforts, free product licenses, free trials for joint customers, free tickets for leading cybersecurity conferences, personal manager and product customization is offered to VAR partners.
Ilia Kolochenko, High-Tech Bridge CEO and Founder says: "We are delighted to offer our award-winning technology to international partners to diversify their product portfolios with our innovative and highly competitive products. We have advantageous and attractive propositions for our VAR partners wanting to benefit from the opportunities presented by the rapidly growing global application security and DevSecOps market."
ImmuniWeb® AI encompasses the following application security products:
To get a detailed VAR program datasheet or to become a partner please fill-in VAR application form.