ImmuniWeb celebrates double success in Info Security Products Global Excellence Awards
April 22, 2015
At a prestigious award ceremony in San Francisco, ImmuniWeb® was named bronze award winner in 2 categories of the Info Security Products Guide 2015.
Last night at a prestigious award ceremony in San Francisco, ImmuniWeb was named bronze award winner in TWO categories of the Info Security Products Guide 2015 Global Excellence Awards.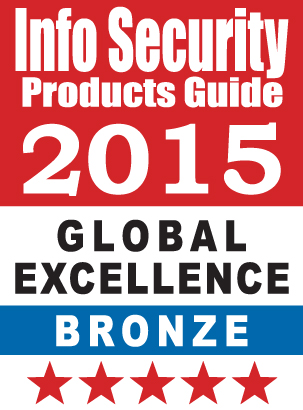 Over 50 international judges from the security industry participated in the winning companies' selection.
ImmuniWeb was triumphant in two categories - Best Security Service category and Vulnerability Assessment, Remediation and Management – in the 11th Annual 2015 Global Excellence Awards.
These prestigious global awards recognize security and IT vendors with advanced, ground-breaking products and solutions that are helping set the bar higher for others in all areas of security and technologies.
Info Security Product Guide's recognition of ImmuniWeb further validates our service as innovative and ahead of the curve. We are proud to be recognized as an innovative security industry player with ImmuniWeb and to be in the company of leading global companies such as F5 Networks, Veracode and Tripwire.
Behind this distinguished success is our relentless drive to stay customer focused. We believe this recognition from Info Security Products Guide further validates our commitment to our customers and their security needs.
The judges were impressed by the following information about ImmuniWeb:
New approach to website security
The ImmuniWeb vulnerability assessment service takes a fresh and much-needed new approach to website vulnerability assessment, remediation and management.
Customers benefit from an on-demand PCI compliant web penetration testing service combined with managed vulnerability scanning, that enables any organization, regardless of its size, location, or in-house technical skills, to order online an automated website security assessment combined with manual penetration testing by experienced security professionals in a few minutes.
ImmuniWeb really is making security simple, it does not require knowledge of website programming, security or hacking techniques, but just a valid e-mail address and the URL of the website to be.
Outperforming existing automated scanning solutions
ImmuniWeb® assessment combines managed vulnerability scanning with manual penetration testing performed in parallel by experienced security auditors. Thanks to our hybrid security testing technology, we detect the most complex vulnerabilities and guarantee zero false-positives in a manually-written report.
ImmuniWeb's simplicity enables even non-technical users to order and schedule a website security assessment in less than five minutes. Used by SMBs to large corporations, ImmuniWeb has been adopted as part of the UN ITU toolset for ensuring that the governmental websites of Member States are secure.
ImmuniWeb helps to achieve and sustain PCI DSS compliance requirements 6.6 and 11.3 for your web applications.
Ilia Kolochenko, CEO of High-Tech Bridge and chief architect of ImmuniWeb, comments: "This international recognition is a great milestone for ImmuniWeb. We are particularly honored to be selected among the recognized industry players. The awards are validation for our innovative technology that provides both efficient and effective web security testing."