High-Tech Bridge to Uberize AI for Application Security Testing
October 17, 2018
ImmuniWeb® AI platform now offers fully customizable packages to proof test security and privacy of any web, mobile or IoT app, all purchasable in few clicks from any device.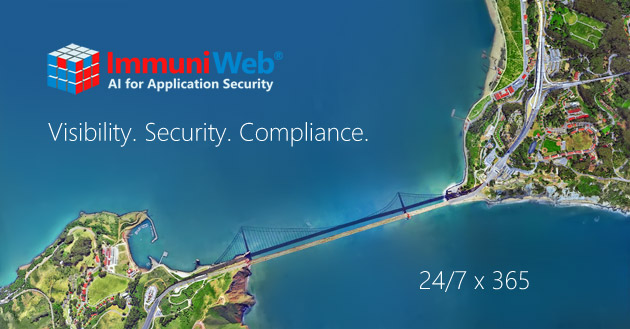 An average time of a sales transaction, including various human interactions, goes down from 15 hours to 8 minutes, saving almost two business days of buyer's time.
ImmuniWeb® AI Platform for application security leverages Machine Learning and AI for intelligent automation and acceleration of application security testing. Complemented by scalable and cost-effective manual testing, it detects the most sophisticated vulnerabilities and comes with a zero false-positives SLA.
High-Tech Bridge's CEO Ilia Kolochenko comments on the enhanced business model:
"Application security market is projected to worth 9 Billion USD by 2022. However, product offering on the application security testing (AST) market is quite opaque. Few vendors publicly disclose their offerings in a measurable way or provide a transparent pricing model. Many potential buyers have to fill-in numerous web forms and talk to different people within vendors' teams before they can get a proposal suitable for their needs and budget. Consequentially, many applications are not tested in an appropriate and timely manner or are not tested at all.
At High-Tech Bridge, we make security testing of web and mobile applications agile, simple and available to companies of all sizes around the globe."
The award-winning ImmuniWeb® AI platform offers four main products to fulfill any application security testing needs:
All of them can be flexibly customized and configured online for any particular technical, business or compliance requirements. Payments can be securely performed online with a credit card, PayPal or bank transfer.
Ilia Kolochenko adds: "Most importantly, from the very beginning of your application security journey - you have a well-defined scope of service and deliverables, you know for what you are paying."
High-Tech Bridge's VAR program remains an important pillar to continue sustainable growth in over 50 countries. VAR and channel partners will benefit from the transparency and straightforward approach by offering clearly advantageous pricing to their customers, in addition to all other partner benefits.
In June 2018 ImmuniWeb® was named the Winner in "Best Usage of Machine Learning / AI" category at SC Awards Europe 2018, outperforming other finalists including IBM's Watson for Cybersecurity.