← Back to event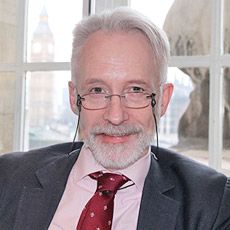 Peter Warren
Chairman | Cyber Security Research Institute | United Kingdom
View profile on Linkedin
Peter is a freelance journalist specialising in technology, undercover investigations and science issues and the author of two critically acclaimed books on cyber security, Cyber Alert, published 2005 and Cybercrime and Warfare, published 2013.

Former technology editor of Scotland on Sunday and the Sunday Express and an associate producer for BBC2, he has worked across a variety of media, including the Guardian, the Daily Mirror, Evening Standard, the Sunday Times, the Sunday Express, Sunday Business, Channel 4, Sky News, the BBC and specialist magazines. Peter reported from Kuwait for the Guardian in the first Gulf War in 1991.

In 1996 Peter was runner-up in the UK Press Gazette Business Awards for Technology Scoop of the Year.

He was a guest speaker on Technology Ethics to the European Union's Information Society Technologies conference in Helsinki in 1999.

In 2006, Peter won the BT IT Security News story of the year prize for his work exposing the practice of discarding computer hard drives containing sensitive business and personal data.

In 2007, Peter won the IT Security News story of the year prize again for work done with Future Intelligence showing that Chinese hackers had broken into the UK Houses of Parliament.

In 2008, Peter won the BT Enigma Award for services to cyber security journalism and raising awareness of cyber security.

He wrote the first ever stories on cyber security and online paedophilia in the national press for the Sunday Times and Daily Express in 1989 and was asked to advise the Greater Manchester Police Force vice squad, the first UK police force to take note of online paedophilia in 1990.

Peter, who lives in Suffolk, is an acknowledged expert on computer security issues and chairs the Cyber Security Research Institute (www.csri.info) and often appears to speak on the issue on national TV and radio programmes around the world.