Web Security in a Swiss Army Knife
Simple. Powerful. Scalable.
ImmuniWeb® Discovery reduces complexity and costs of web security and compliance management with continuous
asset discovery equipped with actionable risk scoring. Its seamless integration into DevSecOps,
data leaks and Dark Web monitoring enables proactive threat mitigation.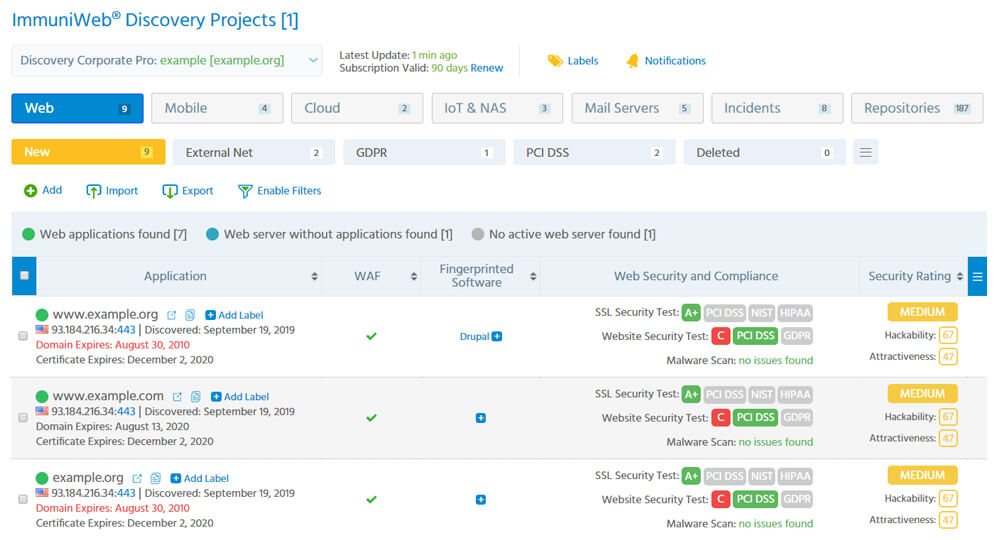 Inventory & Security Ratings
Continuous asset discovery, risk-based
inventory and DevSecOps-tailored
security ratings
Web Security & Compliance
Continuous monitoring of web security,
GDPR & PCI DSS compliance,
WAF and email security
Leaks & Dark Web Monitoring
Continuous monitoring for leaked
data, exposed PII and mentions
in the Dark Web
How It Works
Enter your
company name
See what
hackers see
Prioritize, monitor
and respond
Holistic Asset Discovery and Inventory 24/7
Web Applications

Mobile Applications

Web Services & APIs

Domains & Certificates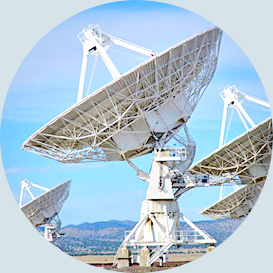 Cloud Storage

Code Repositories

Internet of Things

Mail Servers
Lack of visibility is the most frequent cause of data breaches, as you can't protect what you don't see.
ImmuniWeb Discovery enables a helicopter view of your external digital assets in a simple and actionable manner.
Its DevSecOps-enabled dashboard illuminates a risk-based panorama of your evolving attack surface.
Actionable Security Ratings 24/7
Web Security and Compliance Monitoring 24/7
CVE & OWASP
Top 10 Scanning
PCI DSS &
GDPR Compliance
SSL/TLS Encryption
& Hardening
Software Composition
Analysis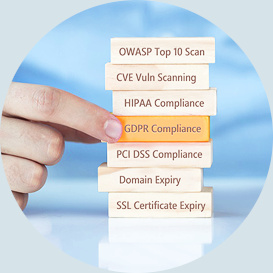 Expiring Domains &
Certificates
Web Malware &
Cryptojacking
WAF & CSP
Presence
SPF, DMARC &
DKIM Presence
Constantly changing applications and web assets is the Achilles' Heel of corporate cyber defense.
ImmuniWeb Discovery runs a 24/7 production-safe web vulnerability and compliance scanning with flexible alerts.
Moreover, your team will get an advance email notice of new assets, expiring domain names or SSL certificates.
Dark Web and Data Leaks Monitoring 24/7
Dark Web
Mentions
Exposed PII &
Credentials
Leaked
Source Code
Presence in
Black Lists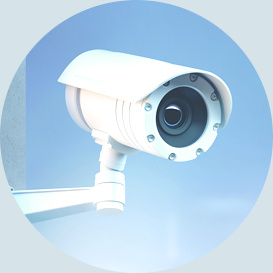 Phishing Websites
and Pages
Fake Social
Networks Accounts
Trademark
Infringements
Squatted
Domain Names
Cybercriminals are proactively searching for new opportunities to steal your data, money or goodwill.
ImmuniWeb Discovery monitors Dark Web, Pastebin and many other resources for your data being leaked or stolen.
Likewise, we look out for expiring domains and certificates, phishing or squatted domains, and inclusion into Black Lists.
Application Security Made Simple
Threat Visibility
Outpace attackers with up2date
and actionable knowledge
Reduced Costs
Avoid unnecessary spending
and minimize incidents
Risk-Adjust Defense
Build a data-driven cyber
resilience strategy
Testimonials and Customer References
ImmuniWeb is an efficient and very easy-to-use solution that combines automatic and human tests. The results are complete, straightforward and easy to understand. It's an essential tool for the development of the new digital activities
Didier Ramella
CISO

ImmuniWeb is the best and simplest way to secure your business online. It's really fantastic experience to get report with zero false positive with detailed actions how to resolve problems and remove vulnerabilities. I think ImmuniWeb is definitely the best alternative to pen testers. As well as a way to save on staff and other costs. I am glad that I can get it all without any hidden costs and without complicated licensing schemes
Nika Vachridze
Senior Information Security Officer
ImmuniWeb significantly enhanced our vulnerability assessment capacity. It's an indispensable tool for continuous auditing of web based systems
Viktor Polic
Chief Security Officer
ImmuniWeb provides accurate assessment on the security posture of our cloud-based applications. The report provided is concise and easy to read with sound advisories on the necessary steps to fix the issues. What impressed me most was that no false-positive was listed and the vulnerabilities are real. ImmuniWeb certainly gives us the right level of assurance that our cloud-based applications are safe and 'good-to-go' before we deploy them out to production
Lee Chye Seng
Director, Learning Systems and Applications
ImmuniWeb is an invaluable tool for iPresent with both automated and manual penetration testing. The fantastic manual testing has found even the most hidden and complicated bugs in our security and ImmuniWeb has delivered first class knowledge. The self-service interface also gives us great control to schedule and monitor tests when we need them
Neil Bostrom
Chief Technical Officer
ImmuniWeb is a great innovative service that brings unbeatable ROI. It is undoubtedly the best way to quickly and easily guarantee your customers that their data is safe with you - and yours too by the way! Efficient and effective!
Jean-Michel Beylard-Ozeroff
Head of IT



Turbocharged performance
at unbeatable price

Up to 20 Websites

Other Assets Unlimited

Up to 100 Websites

Other Assets Unlimited

Up to 1000 Websites

Other Assets Unlimited

Continuous discovery of your external web and mobile apps, REST/SOAP APIs, domain names, SSL certificates, mail servers, cloud storage (e.g. AWS S3 buckets), code repositories and IoT devices.

New Assets Discovery

Secure dashboard provides a reduced-complexity overview of your external attack surface with customizable email notifications on various events or score changes.

Multiuser 2FA Dashboard

Continuous and non-intrusive scanning for OWASP Top 10 and known CVE issues impacting your external websites and web applications.

Website Security Scanning

Continuous scanning for PCI DSS, GDPR, and HIPAA requirements applicable to your external websites, web applications and SSL/TLS configurations.

Website Compliance Scanning

Continuous fingerprinting and monitoring of Open Source and proprietary software for known security and privacy issues.

Software Composition Analysis

Continuous in-depth testing of your Content Security Policy (CSP) and 15+ other security and privacy-related HTTP headers.

Security Headers Scanning

Continuous monitoring of your external websites, web applications and APIs for being protected by a WAF.

WAF Presence Monitoring

Continuous monitoring of domain names and SSL certificates expiration.

Domains & Certificates Monitoring

Continuous monitoring for website malware, Cryptojacking and presence in web and email blacklists including DNSBL.

Blacklists & Malware Monitoring

Continuous monitoring of your external mail servers for properly implemented SPF, DMARC and DKIM.

Mail Servers Monitoring

AI-Enabled hackability and attractiveness scores for each newly discovered, or manually added, external website, web application or API.

Asset Security Ratings

Continuous monitoring for typosquatted or cybersquatted domain names, fake accounts in social networks and phishing websites targeting your brand.

Phishing & Squatting Monitoring

Continuous monitoring of public code repositories (e.g. GitHub) for exposed or leaked sources codes, hardcoded passwords or API keys.

Code Repositories Monitoring

Continuous monitoring of the Onion network, Pastebin, IRC channels, stolen password collections, web forums and other publicly accessible sources for mentions of your company, its PII, credentials or other sensitive data.

Dark Web & Leaks Monitoring
Buying from many vendors
and overpaying?
Sales start in
Subscribe to get notified on start
Frequently Asked Questions
It's very simple: create a free account, enter your company name and make a secure online payment. In approximately two business days you will get your dashboard ready with your external assets scored and categorized. Later you will be able to add new applications, configure continuous monitoring and email alerts.
You can purchase a subscription for 3, 6 or 12 months with a secure online payment. Payment by a bank wire is possible with a yearly subscription.
Each domain name is counted as separate a website. For example, admin.example.com and test.example.com will be counted as two websites. Web applications on non-standard ports, let's say crm.example.com:8931, will be likewise counted as a supplementary website.
Yes, at any time you can add supplementary websites within the range of your package. You can also import a list of web applications, we will automatically remove duplicates adding the new ones.
No, ImmuniWeb Discovery is designed for your corporate websites. Your direct subsidiaries (e.g. Volvo and Volvo Truck) can be grouped under one project, however, Audi, BMW and Porsche will require three district projects.
Please contact sales we will gladly provide you with a custom quote.
Yes, if there is any mention of them in the Internet. For example, if your developers accidentally leak a URL of your internal application via a public code repository, it will likely be detected.
We have an automated, OSINT-based technology to monitor all (semi)publicly accessible IRC channels, Pastebin, web chats and forums, social networks, and .onion websites that are known for trading or offering stolen corporate data.
No, ImmuniWeb Discovery is our baseline product to ensure holistic visibility of your external IT assets, IT hygiene, foundational security and compliance. Business critical applications shall be profoundly tested with ImmuniWeb penetration testing offering.
The underlying technology is production-safe and non-intrusive. It is based on the enhanced version of our free online tests you can try here: www.immuniweb.com/free
No, the testing process is non-intrusive, while the discovery is based on OSINT model leveraging the data publicly accessible in the Internet.
You will get an unlimited access to our 24/7 ticketing system for any technical or business questions you may have.
Yes, you can download the data from the dashboard via our API.