ImmuniWeb® Continuous
ImmuniWeb® Continuous leverages our proprietary Multilayer Application Security Testing and application change detection technologies for ongoing, DevSecOps-enabled web penetration testing. It combines our award-
winning Machine Learning and AI technology with manual testing of new or updated code.
Continuous Web Security Monitoring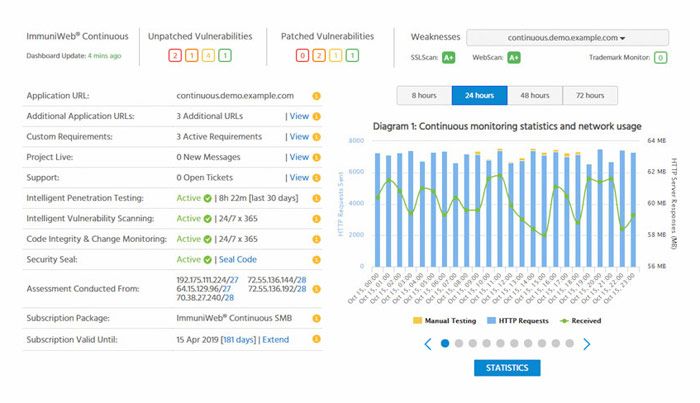 24/7 Change Monitoring
Instant detection and testing of new or updated code deployed to your web applications or API.
Comprehensive Change Testing
Full coverage of OWASP Testing Guide, including API and business logic testing.
Accurate Reporting
Zero false-positives SLA for every project and actionable remediation guidelines.
DevSecOps Tailored
24/7 technical support, patch verification, integration with WAF, SDLC and CI/CD tools.
How It Works
1
Pick a group of
web applications
2
Customize your
testing & reporting
3
Get 24/7 instant
security alerts
Standards & Methodologies
We leverage in-house application security testing methodologies in combination with:
OWASP Testing Guide
NIST SP 800-115 Technical Guide to Information Security Testing and Assessment
PCI DSS Information Supplement: Penetration Testing Guidance
FedRAMP Penetration Test Guidance
ISACA's How to Audit GDPR


We follow international standards to report security vulnerabilities:
Common Vulnerabilities and Exposures (CVE) Compatible
Common Weakness Enumeration (CWE) Compatible
Common Vulnerability Scoring System (CVSSv3)
Vulnerability Coverage Datasheet
Injection Flaws

Any other "High" Risk Vulnerabilities

Buffer Overflows

Cross-Site Scripting (XSS)

Insecure Cryptographic Storage

Improper Access Control

Insecure Communications

Cross-Site Request Forgery (CSRF)

Improper Error Handling

Broken Authentication and Session Management
ImmuniWeb® Continuous Packages