High-Tech Bridge is the Winner of SC Awards Europe 2018
June 6, 2018
High-Tech Bridge's ImmuniWeb® named the Winner in "Best Usage of Machine Learning / AI" category at SC Awards Europe 2018.
SC Awards Europe 2018 has announced the winners during its Awards Ceremony hosted at luxury Marriott Grosvenor Square on the evening of 5th of June in London.
Six strong finalists, including IBM Watson for Cybersecurity, were competing in the emerging "Best usage of Machine Learning and AI" category. The panel of judges comprised of the high-profile UK and European cybersecurity experts, visionaries and leaders, awarded the top accolade to High-Tech Bridge: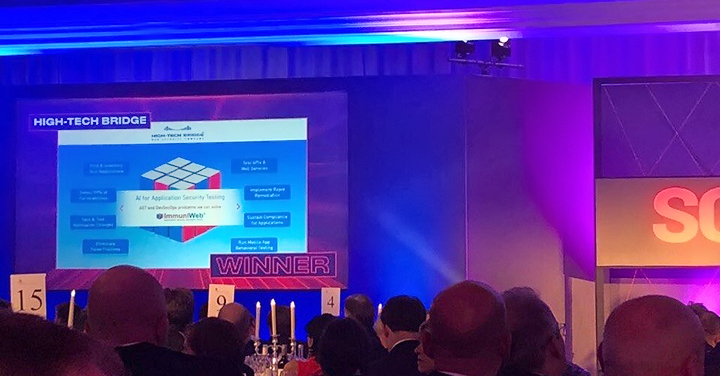 "Best Usage of Machine Learning and AI" goes to High-Tech Bridge for ImmuniWeb®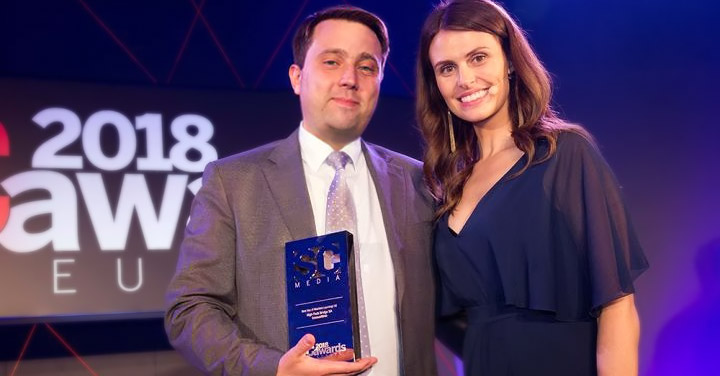 High-Tech Bridge's CEO with the trophy
Ilia Kolochenko, High-Tech Bridge's CEO and Founder, says: "We are thrilled to get this prestigious and prominent recognition - it validates our continuous efforts to adopt Machine Learning to solve application security challenges. Our AI experts and security engineers work hard to create smart algorithms capable of making human intelligence scalable and cost effective. Many complicated tasks and processes used to require human time - are now solved without human intervention at all thanks to our intelligent automation technology."
"This is a very important milestone for our company that motivates us to innovate even more. I am grateful to each member of High-Tech Bridge Team, and to all of our customers and partners for their ongoing support in this exciting journey towards innovation and success."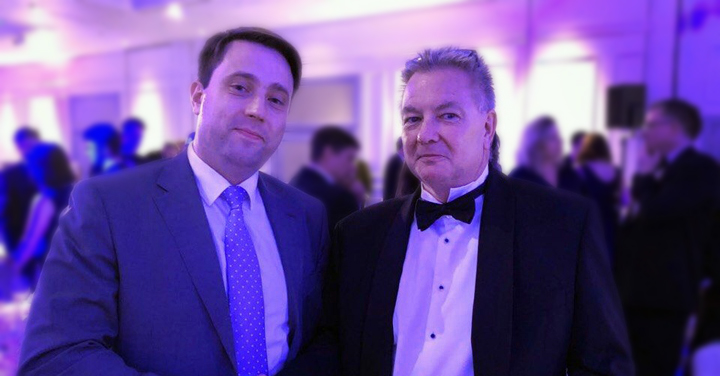 High-Tech Bridge's CEO with Toni Morbin, SC Editor in Chief
SC Editor in Chief Tony Morbin commented, "We are really delighted with the high calibre of entries this year. Our winners have had to be really exceptional to stand out in such a vibrant and dynamic industry, and we offer them our fullest congratulations."
High-Tech Bridge's award-winning ImmuniWeb® Platform leverages Machine Learning and AI for intelligent automation and acceleration of Application Security Testing (AST). Complemented by scalable and cost-effective manual testing, it detects the most sophisticated vulnerabilities and comes with a zero false-positives SLA. Recently, ImmuniWeb IAST and SCA products were announced to enhance existing product portfolio.
Last year, High-Tech Bridge launched ImmuniWeb Discovery - a freemium OSINT discovery service that just needs your company name to illuminate and build a comprehensive inventory of all your external web applications, mobile apps, microservices, domains and SSL certificates for actionable inventory, WAF protection and security testing.
High-Tech Bridge also provides a portfolio of free web security products as its contribution to the cybersecurity community and in its effort to make application security accessible for SMEs.