ImmuniWeb Unveils New Platform Updates for Black Friday
November 15, 2021
After the November's webinar for our customers and partners, that gathered over 400 attendees, we are excited to introduce ImmuniWeb® AI Platform update that incorporates requests and suggestions received from the audience.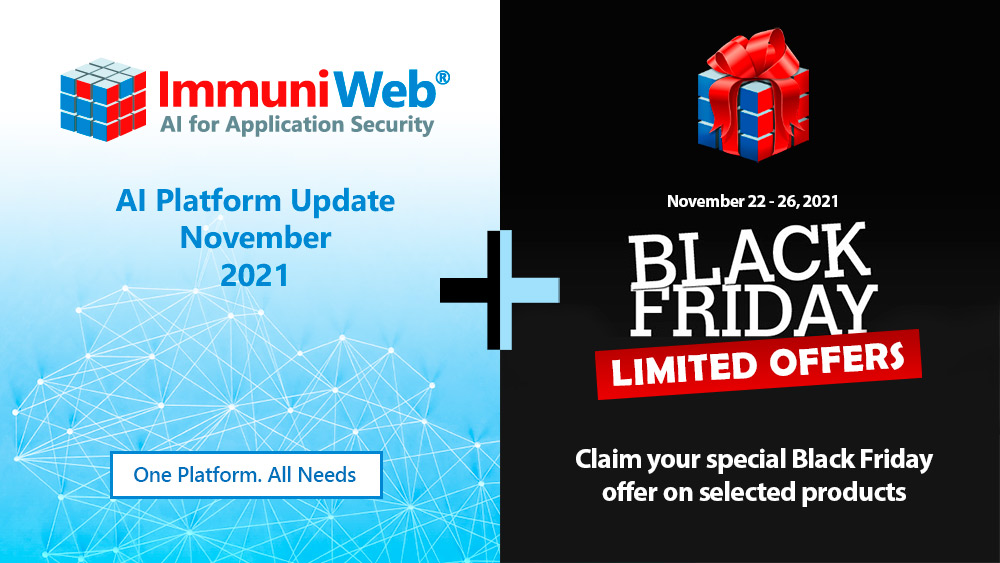 First, in addition to the already existing 16 use cases, we introduced 2 novel use cases how you may leverage the ImmuniWeb® AI Platform for your cybersecurity, IT governance and compliance needs:
Our flagship offering ImmuniWeb® Discovery now also has the following new features and improved functionalities to provide you with the most comprehensive view of your cybersecurity, resilience and data protection:
Expanded Software Composition Analysis (SCA) Technology now performs deep crawling of your web applications to detect software on all pages of your website. Furthermore, the new Machine Learning models enable reliable fingerprinting of bundled, compressed or obfuscated JavaScript libraries and frameworks.
New Dark Web Collections now bring additional threat intelligence and IoC feeds, monitored Telegram and IRC channels, surveilled Dark Web marketplaces and underground forums where cybercriminals trade stolen data or credentials to compromised systems or service accounts.
Updated Network Scanning Technology now performs additional reconnaissance, product and version fingerprinting of your external network services for a risk-based scoring of your network attack surface. Full port scanning mode, that is a substitute to network vulnerability scanners, is now available in Corporate Pro package.
New SaaS and PaaS Cloud Systems have been added to the cloud discovery technology, bringing over 100 popular SaaS or PaaS systems where your data is being stored or processed, so you can keep an eye on third parties who may fall victim to growing supply chain attacks.
Better Quick Filters and Search Capacities now enable you to perform triage of on-premises and cloud IT assets in a simpler and faster manner, while new quick filters of the incidents simplify triage process for your DFIR team.
Ilia Kolochenko, Chief Architect at ImmuniWeb, says "We are excited to regularly expand our in-house product roadmap with feature and integration requests coming from our valued customers and partners. We carefully analyze every single feedback we receive, and we encourage all our customers to use online surveys – available with every ImmuniWeb project – to tell us what else they may need to make our offering even better. More cool things are coming soon, please stay tuned."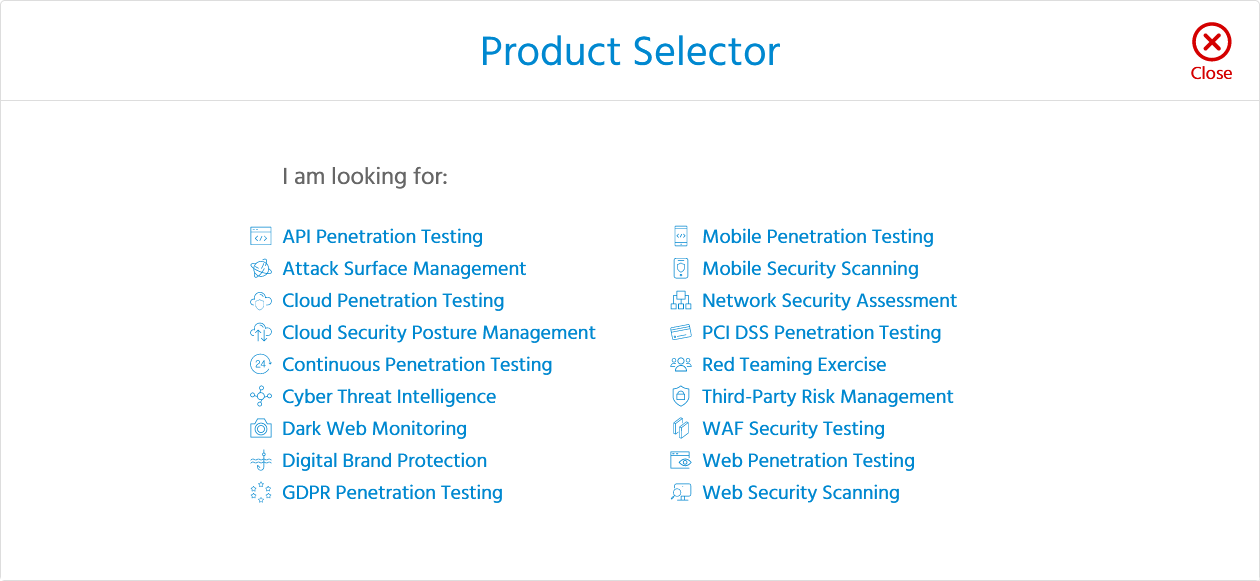 Updated ImmuniWeb Product Selector
To thank all our customers and partners for fostering our inspiration to relentlessly innovate and continuously deliver even more value and excellence, we have prepared the following special offers for the Black Friday week:
30% discount for all ImmuniWeb® On-Demand and MobileSuite packages excluding Express when paying online with a credit card or PayPal. Please use BLACKFRIDAY discount code on the payment step to claim the offer! The discount is non-cumulable with other discounts.
25% discount for all ImmuniWeb® Continuous packages excluding Express and Express Pro. Please get in touch with your account manager to get the proposal! The discount is valid for new projects and is non-cumulative with other discounts.
Both special offers are valid from Monday November 22 to Friday November 26, 2021. May you have any questions please get in touch with us!
What's next: