ImmuniWeb Discovery Autumn 2021 Update
September 2, 2021
The improvements boost detection of cloud-native services in AWS, Azure, GCP and 30+ other public cloud service providers and expand Dark Web monitoring capacities.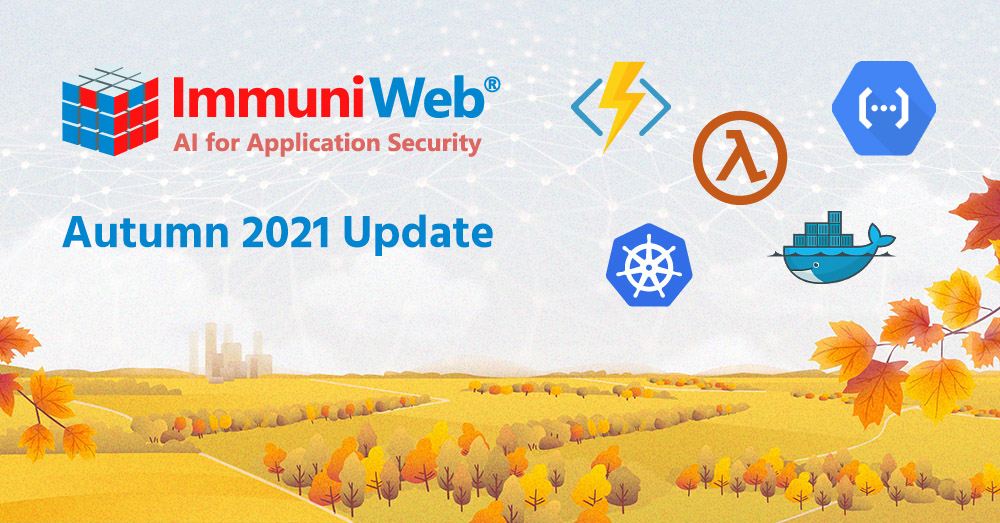 As more and more of our valued customers migrate to public cloud and implement Dark Web monitoring into their risk management and cyber resilience strategies, the update mainly focuses on these areas and also brings many other accompanying improvements and novel features to ImmuniWeb® Discovery Attack Surface Management:
Domain Management Tab – the new tab groups all domain names in a single place, including the domains that have no DNS records or do not exist anymore, allowing adding or removing domains and all the associated assets in other tabs in one click.
Enhanced Cloud Discovery – application and network load balancers, API gateways, serverless (FaaS), managed databases, managed containers and container orchestration services in a cloud will now be discoverable and displayed in the Cloud tab.
Improved Repositories Discovery – new software packages, container repositories, disk snapshots and system images repositories in a cloud are now discoverable and displayed in the Repositories tab.
New IoC and Threat Intelligence – new feeds and sources of information about malicious activities, hacking and phishing campaigns, compromised or vulnerable systems exploited in the wild are added and displayed in the Incidents tab.
Fine-Grained Incidents Search – numerous UI improvements to make incident search more flexible, granular and rapid, while displaying more technical information about the incidents including screenshots and raw data to facilitate DFIR.
Actionable Risk Scoring – web and mobile applications risk score now indicates what is to be fixed in order to improve the risk score, while AI metrics remain available for advanced threat modeling and prioritization of penetration testing.
The new features are available for our customers with existing subscriptions at no additional cost from September 2, 2021. New orders will be available at the existing price till December 31, 2021.
Contrasted to the majority of open-source or commercial Cloud Security Posture Management solutions that require a valid IAM account in the cloud, all you need to launch ImmuniWeb Discovery - is to enter a company name. The entire discovery process is non-intrusive, being based on OSINT technology enhanced with our proprietary Machine Learning technology.
Ilia Kolochenko, Chief Architect & CEO at ImmuniWeb, says: "This year is marked with unprecedented quantity and quality of new product features available on the ImmuniWeb® AI Platform. We are thrilled to relentlessly innovate and thank our customers and partners for their valuable input, rapidly implementing new features and technical capacities to help them stay ahead of cybercriminals, prevent data breaches and comply with growing regulatory requirements. The Q4 is poised to bring even more exciting novelties and pleasant surprises, please stay tuned."
An invitation-only training dedicated to the update will take place on:
September 15 at 10am CEST
September 16 at 4pm CEST
During the training, these and other features of ImmuniWeb® Discovery will be showcased and explained in details. The training will also cover several novelties of ImmuniWeb® MobileSuite and our mobile penetration testing capacities. Attendees will have an opportunity to ask their questions directly to the Chief Architect and request new product features or integrations.
Participation in the training also makes you eligible to become ImmuniWeb® Certified Professional condition to certain academic requirements and professional experience. If you haven't received your personal invitation yet, please contact your account or partner manager.
What's next: