ImmuniWeb Is a Winner at Global InfoSec Awards 2023
April 25, 2023
Panel of Judges from Cyber Defense Magazine (CDM) named ImmuniWeb a winner in two categories during the 11th Annual Global InfoSec Awards at RSA Conference 2023.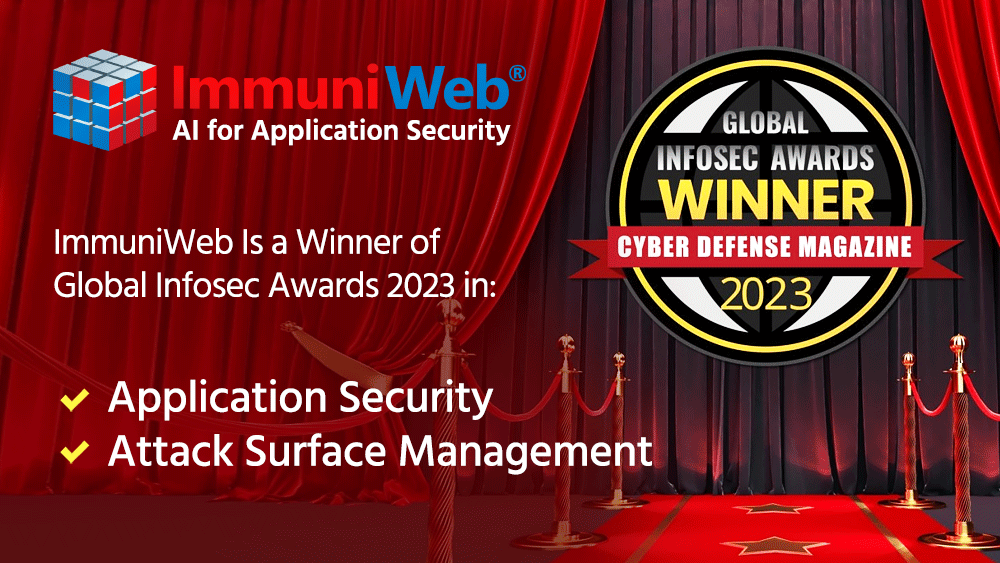 Just after receiving several prestigious awards and recognitions in March, ImmuniWeb is named the Best Product in "Application Security" category and the Best Solution in "Attack Surface Management" category of the renowned Global InfoSec Awards 2023 taking place in San Francisco, California.
Cyber Defense Magazine (CDM) is the premier source of cyber security news and information for InfoSec professions in business and government. This is Cyber Defense Magazine's eleventh year of honoring InfoSec innovators from around the Globe. The CDM judges are renowned security professionals who voted based on their independent review of the company submitted materials on the website of each submission including but not limited to data sheets, white papers, product literature and other market variables. CDM has a flexible philosophy to find more innovative players with new and unique technologies, than the one with the most customers or money in the bank. CDM is always asking "What's Next?" so we are looking for best of breed, next generation InfoSec solutions.
Gary S. Miliefsky, Publisher of Cyber Defense Magazine, says: "ImmuniWeb embodies three major features we judges look for to become winners: understanding tomorrow's threats, today, providing a cost-effective solution and innovating in unexpected ways that can help mitigate cyber risk and get one step ahead of the next breach."
Dr. Ilia Kolochenko, Chief Architect & CEO at ImmuniWeb, comments: "This award is an excellent validation of our unshakable commitment to continually innovate and deliver excellence to our customers and partners. We are excited by the rapid growth of our business around the globe that is propelled by our award-winning technology and unbeatable offering that help our clients to stay ahead of the emerging cybersecurity risks and threats. We are grateful to all our customers and partners for their ongoing inspiration to relentlessly move forward and tirelessly seek creative ways to make out offering even better on the global market. More exciting announcements are coming soon, please stay tuned."
To learn more about the most recent updates of the award-winning ImmuniWeb® AI Platform, book your seat for tomorrow's webinar.
What's next: