Penetration Test
as a Service (PTaaS)
IT security companies often hire trusted white-hat penetration testing hackers to look for weaknesses in the information system for attacks that could be exploited. Pentest as a Service is a cloud service to perform such kind of analysis.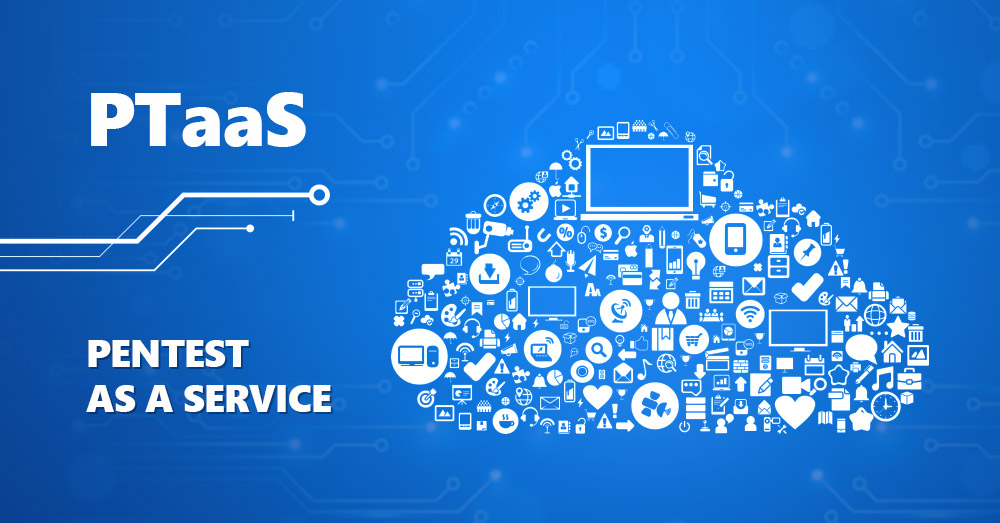 Penetration Test as a Service (PTaaS)
What is Penetration Test
as a Service (PTaaS)?
PTaaS or Penetration Testing as a Service delivers cloud resources to cybersecurity companies to ensure continuous penetration testing. This method of ensuring information security helps in creating reliable systems for managing the weaknesses. This allows experts to quickly determine priorities, successfully find and eliminate vulnerabilities and cyber security threats.
Want to have an in-depth understanding of all modern aspects of Penetration Test as a Service (PTaaS)? Read carefully this article and bookmark it to get back later, we regularly update this page.
Third-party experts are invited to break into applications, servers, or the entire information system of a company, or at least try to do so. This is how hard-to-identify security weaknesses are discovered, which can then be remediated.
How PTaaS Works?
Before cloud services were developed, the effectiveness of penetration tests was determined by the time it took to deliver information about the cybersecurity issues. Company experts usually always received the necessary data after the penetration test. Of course, this was useful data, but to some extent, already outdated. And this fact could affect the effectiveness of eliminating vulnerabilities and correctly setting priorities for remediation.
Today, the most modern method of testing is Automated Penetration Testing with the use of AI, which is provided by the principle of Software as a Service (SaaS). Such services most often solve the problem of some delay in obtaining the most up-to-date information about the state of security and vulnerability of the system.
Our Continuous Penetration Testing allows the customers not only get permanent and continuous perimeter protection, but also a possibility to view in real time the most relevant information they need in order to make the most accurate and timely decisions to remediate vulnerabilities.
In a special interface provided by the Pentest As a Service supplier, the perimeter security experts will have constant access to such information at any time, regardless of whether the penetration test is currently being carried out or has already been completed. In addition to up-to-date data, you can often also get access to a complete knowledge base, analytics, and advice on mitigating security threats from PTaaS providers, as well as validation of the effectiveness of vulnerability treatment.
The Pentest As a Service delivery method works well for most companies, regardless of their size. Most often, the flexibility of the platforms that provide PTaaS makes it possible to combine everything that is needed to protect the client's information system. It's not just that PTaaS stands for Penetration Testing as a Service, as it combines continuous security monitoring, vulnerability management, and continuous support and expert advice.
Benefits of Penetration Testing
as a Service
Pentest As a Service gives its clients control over the situation, which is one of the biggest advantages of this method. Organizations with little experience in cybersecurity receive a platform from a PTaaS vendor that provides them with everything they need to create an effective program to manage information system weaknesses and threats.
What does PTaaS include? Pentest As a Service is based on services led by a vendor adviser and can include not only customizable reporting features but also meeting the regulatory compliance requirements, as well as providing a complete attack vulnerability testing program in accordance with the OWASP Testing Guide. Often, the service provides expert results and comments, where clients can not only read a really extensive report with testing statistics but also directly interact with the penetration test results. Cloud PTaaS services allow clients to define and request new directions and also display the state of interactions that are currently in place, as well as their progress.
Other benefits include:
Constant access to information in real time.

The data collected by your internal security team is updated as the existing vulnerability evolves over time.

Automation processes

that make scanning unauthenticated web applications and weak points of your system perimeter much easier.

Ability to purchase services with flexible terms.

So, the organization can choose not only a wide range of services, such as manual, automated, or mixed types of penetration tests, but also various options for budgeting purchases, for example, according to the term of subscription to cloud services.

Access to a portal

where you will have the opportunity to interact with the results and conclusions of the expert, create reports, and also view project documentation and proposals.

Various reporting options

where you can select different sets of results from different sources. Most cloud platforms that provide Pentest As a Service can combine and correlate different data, thanks to test results from multiple source options.
Fixing Vulnerabilities
Any penetration testing method often overlooks security vulnerabilities and breaches. Multiple security breaches of applications or the entire company system are identified in reports that are the result of the company's interaction with the PTaaS supplier.
How Does PTaaS Differ from the Standard Penetration Test?
Often, many people confuse penetration testing as a service with cloud penetration testing. However, PTaaS is a delivery service, not just the identification of security vulnerabilities in specific cloud infrastructure, as is usual with a cloud penetration test. With Pentest As a Service, you don't just use a penetration test, but you also get access to tools that provide advanced monitoring and search for vulnerabilities in your organization's information system perimeter.
In addition, PTaaS provides for an ongoing process of scanning and subsequent corrections. Thus, you always have the opportunity to respond in a timely manner. This is why you need an ongoing testing and patching plan. With Pentest As a Service, you get many options for encryption, certification, and automated test generation to help you keep your entire network secure at all times.
Additional Resources