Brazilian Court Sentences Telegram Hacker to 20 Years in Prison
Read also: Two men suspected of railway hacks arrested in Poland, Qakbot botnet dismantled, and more.
Views:

3.5k
Read Time:

2 min.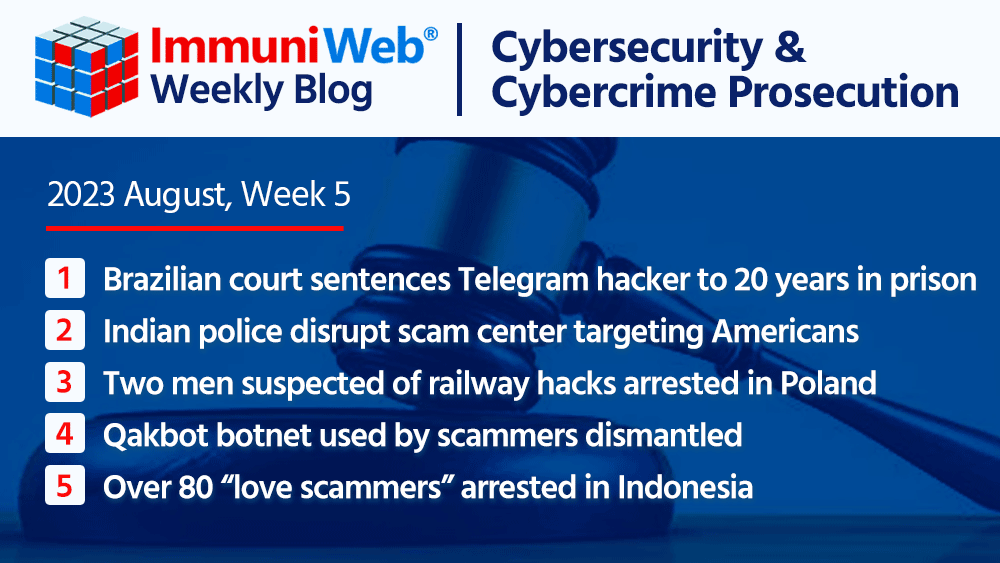 Brazilian court sentences Telegram hacker to 20 years in prison
Notorious hacker Walter Delgatti known as Vaza Jato Hacker has been given a 20-year prison sentence for hacking into hundreds of Telegram accounts, including those belonging to Brazilian prominent figures such as former Justice Minister Sérgio Moro, former Economy Minister Paulo Guedes, and former prosecutor Deltan Dallagnol, a member of the Operation Car Wash task force.
Operation Car Wash (Operation Lava Jato) was one of the largest and longest-running investigations into money laundering and corruption in Brazil launched in March 2014.
According to officials, Delgatti planned to sell the stolen correspondence of politicians to the media. The sentence also states that Delgatti engaged in criminal activities such as selling stolen bank details on underground forums and tricking victims into installing malware on their computers.
Indian police disrupt scam center targeting Americans
The Indian authorities have dismantled a scam call center in the city of Noida that defrauded hundreds of American citizens.
The fraudsters used leaked American social security numbers to contact US nationals posing as employees of the US Social Security Administration (SSA). They then tried to trick their victims into providing their bank details by convincing them that their social security numbers were used for malicious activities. The scammers are said to have contacted more than 400,000 US citizens and defrauded 600 individuals.
The police arrested 84 alleged scammers, including the call center's two administrators. Computer equipment, mobile phones, cash, and printouts of the scripts used in the fraud scheme have also been seized during the raid.
Two men suspected of railway hacks arrested in Poland
The Polish authorities detained two Polish nationals in connection with a recent spate of railway hacking incidents that disrupted traffic in the northwestern regions of the country and delayed or stopped roughly 20 trains over the weekend.
Both men, who are in their 20s, are accused of illegally accessing the radio communication network of the Polish PKP railway, which triggered the activation of multiple stop signals.
The suspects were arrested in the eastern city of Bialystok at a private apartment, with police seizing radio equipment allegedly used by the duo. Local media reported that one of the suspects was a police officer, the identity of the second man remains undisclosed.
Qakbot botnet used by scammers and ransomware actors dismantled
An international police effort involving law enforcement agencies from the US and Europe has resulted in the disruption of the notorious Qakbot botnet and associated malware that infected more than 700,000 computers across the globe and caused about $60 million in losses.
Initially designed as a banking trojan, Qakbot evolved into a multifunctional malware loader used by cybercriminals and ransomware actors (Conti, ProLock, Egregor, REvil, MegaCortex, Black Basta) for nefarious purposes.
As part of the take-down, the botnet's infrastructure was dismantled and over $8.6 million in cryptocurrency in illicit profits was seized. The FBI also gained access to 700,000 infected PCs through Qakbot servers and instructed the machines to download a tool that would uninstall the Qakbot malware. The US authorities didn't mention if any arrests were made in connection to the operation.
Over 80 "love scammers" arrested in Indonesia
Indonesian authorities arrested 88 Chinese nationals suspected of being involved in an international telephone and online romance scam operation that targeted predominantly Chinese citizens.
The suspects were arrested on Batam Island, next to Singapore. According to the police, the syndicate has been in operation since the start of 2023 and has defrauded hundreds of victims in China. It's not clear how much money the gang has earned through their illicit activities.
In a report released this week, the Office of the UN High Commissioner for Human Rights said that hundreds of thousands of people from around the world have been trafficked to Southeast Asia and forced to participate in cybercrime activities ranging from romance-investment scams and crypto fraud to illegal gambling.
What's next: