Massive Investment Fraud Ring Stole Over €89M From Thousands of Victims
Read also: Bitrue crypto platform hacked for $23 million, Ryuk crypto broker sentenced to no jail time, and more.
Views:

4.9k
Read Time:

2 min.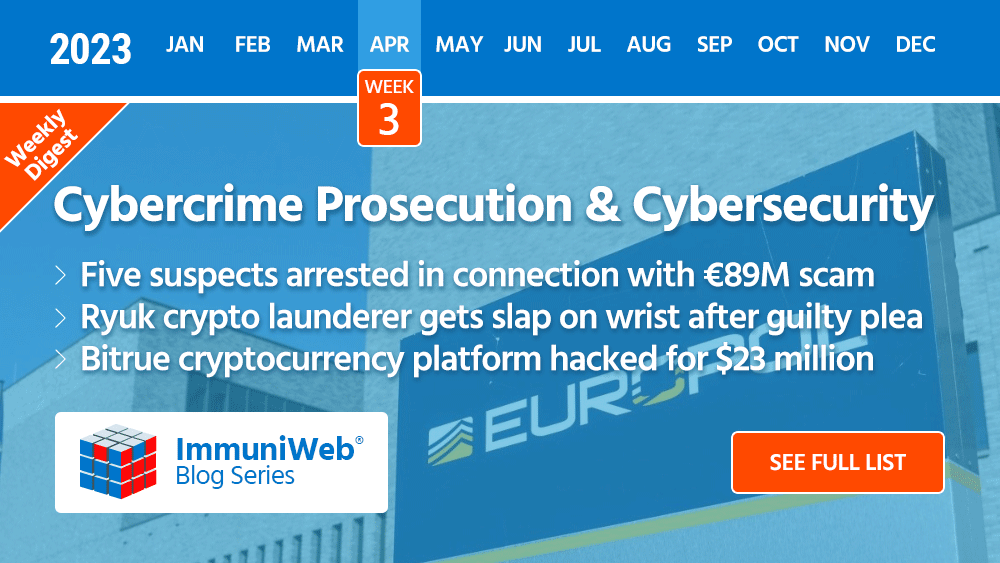 Five suspects arrested in connection with €89M scam
Europol announced the arrests of five people allegedly involved in a massive investment scam operation that saw more than €89 million stolen from over 33,000 victims worldwide.
The scammers behind the scheme that allegedly run from 2019 to 2021 lured victims via fraudulent websites and social media, using call centers in various European countries.
The criminal enticed victims into making small initial investments of €200-250, promising high profits in return.
Ryuk crypto launderer gets slap on the wrist after guilty plea
Denis Dubnikov, a founder of the Russia-based Coyote Crypto and Eggchange OTC trading desks, who laundered money for the infamous Ryuk ransomware syndicate, was sentenced to no jail time and was ordered to forfeit $2,000 after a guilty plea.
According to the US authorities, between at least August 2018 and August 2021 Dubnikov and his accomplices were involved in the processing of illicit funds obtained as a result of Ryuk ransomware attacks on individuals and organizations worldwide. It is said that Dubnikov helped the Ryuk ransomware group launder over $400,000 in ransom proceeds.
The crypto broker was apprehended in 2021 in the Netherlands and extradited to the US, where he was facing up to 20 years in prison for his crimes. In February this year, Dubnikov pleaded guilty, and on April 11 he was sentenced to time served and additional three years of supervised release.
Bitrue cryptocurrency platform hacked for $23 million
Popular Singapore-based cryptocurrency exchange Bitrue lost $23 million worth of Ether, Shiba Inu and other coins after an unknown hacker compromised its hot wallet.
The company said bthe attack was detected on April 14, 2023 and impacted less than 5% of its overall funds. Its other wallets were not compromised, Bitrue assured.
Following the incident the company halted all withdrawals and launched an investigation into the hack. It also promised to reimburse all affected users in full.
The news comes mere days after decentralized finance protocol Yearn Finance was robbed of more than $11 million worth of stablecoins as a result of a cyber-attack that took advantage of Yearn Finance's misconfigured stablecoin yUSDT.
A joint action disrupts RedLine malware operations
Operations of the RedLine infostealing malware have been hampered as a result of a joint effort by cybersecurity firm ESET and Microsoft-owned code hosting platform GitHub.
ESET says it found four GitHub repositories used by RedLine' control panels as dead-drop resolvers. GitHub has removed these repos, thus breaking authentication for control panels currently in use and preventing the malware's operators from accessing the backends.
Unfortunately, this is only a temporarily disruption that doesn't affect actual backend servers, meaning the RedLine crew will likely provide their customers with new control panels.
US telecom giant CommScope hit with Vice Society ransomware, employee data leaked
The Vice Society ransomware gang has leaked a "treasure trove" of data allegedly stolen during a March attack on US network infrastructure firm CommScope.
As per news media reports, the leaked data contains corporate documents, as well as personal information of thousands CommScope employees, including full names, postal/email addresses, Social Security numbers and bank account details.
A company's representative has confirmed that CommScope's infrastructure was breached in a ransomware incident on March 27, adding that Vice Society's claims are still under investigation and that there's no evidence that customer data was compromised.
What's next: