Most Hackers Need Less than Five Hours to Collect And Exfiltrate Data
Read also: Australia to toughen cybersecurity laws following a recent data breach, Meta cracks down on Russian disinformation, and more.
Views:

5.6k
Read Time:

3 min.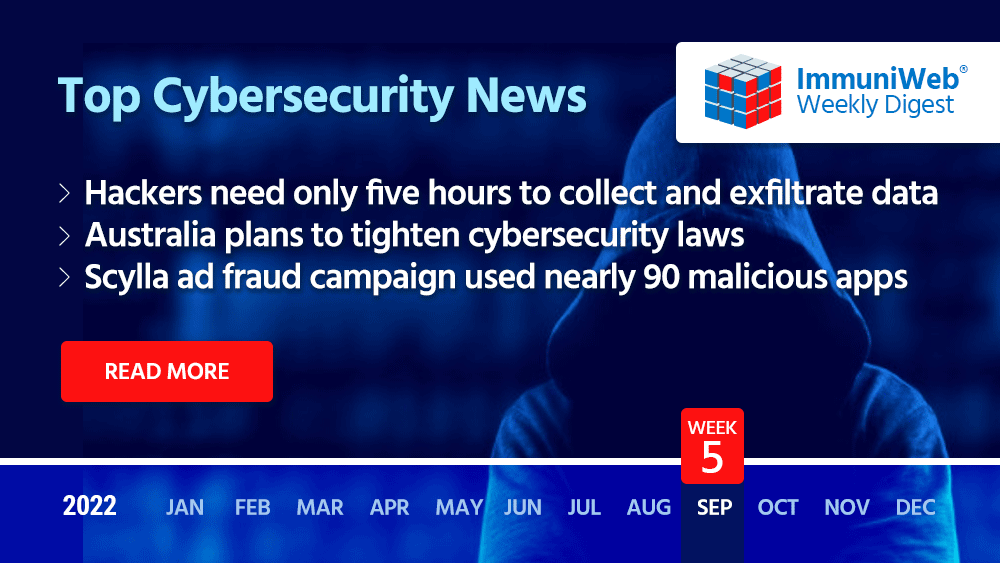 Most hackers need less than five hours to collect and exfiltrate data
More than 50% of attackers could hack into a network and then exploit the environment in less than 10 hours, a new survey revealed. 37% of respondents said they can break into an environment more often that not, if not always, and roughly 64% said they can collect and potentially exfiltrate data in less than 5 hours.
58% of surveyed ethical hackers said it would take them 5 hours or less to breach the targeted environment once they've found the weakness. As for attack surface, the most commonly identified exposures include misconfigurations, vulnerable software, and exposed web services.
What's more disturbing is that, according to nearly 75% of respondents, only a few organizations have adequate detection and response capabilities to effectively thwart a cyber-attack.
Australia plans to tighten cybersecurity laws after a recent data breach
Australian government plans to adopt more strict cybersecurity rules for companies in the telecommunication sector after a subsidiary of Singapore telecommunications group Singtel and the second-largest telecoms provider in Australia, suffered a security breach, which exposed personal information of nearly 10 million of its customers. The compromised data included names, dates of birth, phone numbers, email addresses, as well as ID document numbers such as driver's licence or passport numbers.
According to news media reports, the alleged hacker had attempted to extort the company and demanded $1 million in cryptocurrency for the data, but later changed their mind, deleted the data and apologized for the intrusion.
The government says that Optus is fully responsible for the breach and should pay for replacement passport for impacted people.
Scylla ad fraud campaign used nearly 90 malicious apps to steal data from Android and iOS users
A massive mobile ad fraud campaign has been discovered that involved nearly 90 malicious Android and iOS apps collectively boasting over 13 million downloads.
Dubbed "Scylla," the campaign is believed to be a third wave of an operation named "Poseidon" initially discovered in 2019 (its second installment, dubbed "Charybdis," was detected in 2020). While the Poseidon and Charybdis operations were focused on Android users, Scylla expands beyond Android and targets iOS devices as well.
Once installed, the fraudulent apps perform different kinds of ad fraud. Those include spoofing popular apps such as streaming services to trick advertising SDKs into placing ads, serving "hidden" ads via WebViews, and generating fraudulent ad clicks to profit off ads.
Google and Apple were notified about the malicious operation and both companies have removed fraudulent apps from Play Store and App Store.
Fraudsters steal millions in a global credit card scam
Tens of millions of dollars have been stolen from tens of thousands credit cart holders in a massive 3-year credit card scam that is still ongoing.
Believed to be operated by a Russian cybercrime syndicate, the scheme involved a massive network of bogus dating and adult websites with customer support capabilities, which were used to charge credit cards bought on the dark web. The majority of the credit cards bought by cybercriminals and used in the operation belonged to people in the US, but there also were cards from French-speaking countries.
By using small recurring charges, the scammers were able to keep chargeback requests low enough to avoid being discovered.
Meta cracks down on massive disinformation network spreading Russian propaganda
Meta, a company behind Facebook and Instagram social platforms, said it disrupted a massive Russia-linked network of fake accounts used to spread Kremlin propaganda and criticize Western sanctions. The campaign, described as "one of the largest and most complex" operations Meta took down since the start of the Russo-Ukrainian war, targeted users in Europe, the US, and Ukraine.
It involved a sprawling network of more than 60 websites designed to look like legitimate sites of news organizations in Europe, including Spiegel, The Guardian and Bild.
Additionally, Meta took action against the China-based influence operation that targeted the US, the Czech Republic and Chinese- and French-speaking audiences across the globe. The campaign was focused on US domestic politics ahead of the midterm elections in November, as well as the Czech Republic's foreign policy toward China and Ukraine. The network used fake accounts across Facebook, Instagram and Twitter, but has not received much attention.
What's next: