Top 10 Law Enforcement Operations Against Cyber Crime in 2022
Since the start of 2022, multiple law enforcement agencies worldwide have been taking action targeting organized cyber crime activity, including cyber criminals behind phishing and BEC scams, dark web forums, or malware distribution. Here's Top 10 of the most notable law enforcement ops against cyber crime carried out in the past ten months.
Views:

4.3k
Read Time:

3 min.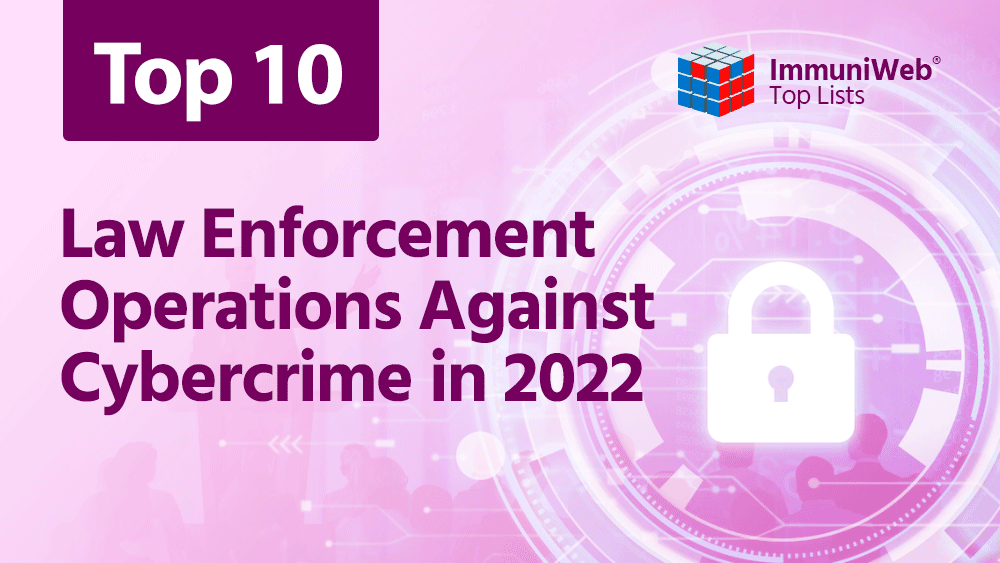 FBI disrupted $51M Business Email Compromise scheme
A coordinated law enforcement operation called "Eagle Sweep" conducted by the US Federal Bureau of Investigation (FBI) together with its international partners saw the arrest of 65 individuals in the United States, Nigeria, South Africa, Cambodia, and Canada allegedly involved in Business Email Compromise schemes that targeted over 500 companies in the US and resulted in $51 million in financial losses.
Police dismantled one of the world's biggest hacker forums RaidForums
RaidForums, one of the world's biggest hacker forums and a constant source of high-profile data leaks, was shut down in April as a result of a global Europol-led law enforcement operation called "Tourniquet". The police also arrested the forum's founder and chief administrator, and two of his accomplices.
RaidForums first emerged in 2015 and quickly gained popularity among cyber criminals by selling access to high-profile leaks obtained from data breaches, including credit cards information, bank account numbers, login credentials, etc.
FluBot Android malware operation shut down by law enforcement
In June, law enforcement agencies took down the infrastructure of FluBot, believed to be one of the largest Android malware operations to date. FluBot is a SMS-based Android malware that steals passwords, online banking details and other sensitive information from infected devices. The Dutch police announced they disconnected ten thousand victims from the FluBot network and prevented over 6.5 million spam SMS from reaching prospective victims.
First discovered in December 2020, FluBot rapidly gained traction in 2021 and was observed in several large-scale campaigns targeting users in Spain and Finland.
2,000 scammers arrested, $50 million seized in anti-fraud op
2,000 alleged fraudsters were arrested in a global crackdown on social-engineering scams that involved telephone deception, romance scams, e-mail deception, and related financial crimes. Besides the arrests, law enforcement agencies from 76 countries raided 1,770 call centers suspected of running fraudulent operations, sized $50 million in illicit funds, and froze around $4,000 bank accounts.
US authorities seized SSNDOB marketplace that sold stolen personal data
The US authorities shut down SSNDOB, a popular dark web marketplace for trading stolen personal data. The marketplace operated through a series of dark web sites and listed the names, dates of birth, email addresses, passwords, credit card numbers, and Social Security numbers of millions individuals for sale. SSNDOB is said to have made $19 million in sales revenue.
Phishing gang behind millions euros worth of losses busted in Europe
European police arrested several members of organized cyber crime group involved in phishing, fraud and money laundering that led to millions of euros in losses.
By contacting victims via email, SMS messages and mobile messaging applications the group tricked users into visiting a fake banking website and providing their banking credentials. The criminals then used money mules to steal funds from their victims' bank accounts and cash out the illegally acquired money.
108 call center operators involved in international investment scam operation arrested in Latvia and Lithuania
Over 100 people were arrested in Latvia and Lithuania suspected to be members of an organized crime group behind multi-million euro international call center scam that defrauded multiple victims worldwide by persuading them to invest in Bitcoin, commodities, and foreign currencies.
The fraudsters ran an international call center operation with 200 fake traders speaking English, Russian, Polish and Hindi. It is estimated that scammers made at least €3 million per month through this fraudulent activity.
"Black Axe" cyber crime syndicate busted in law enforcement operation
75 suspected members of the Black Axe West African crime syndicate were arrested and more than €1 million in various bank accounts intercepted as a result of an international operation codenamed "Operation Jackal" that involved law enforcement agencies from 14 countries across four continents.
As part of the operation the police conducted 49 property searches and seized 12,000 SIM cards, which allowed to identify over 70 additional suspects.
Authorities shut down VPN service favored by ransomware groups
In a coordinated effort law enforcement agencies from 10 countries shut down VPNLab.net, a popular virtual private network (VPN) service used by threat actors to conceal the origin of their malicious activity, such as ransomware deployment and other criminal operations.
First established in 2008, the service offered online anonymity by providing encrypted communications based on OpenVPN technology and 2048-bit encryption for as little as $60 per year.
Ukrainian police dismantled cyber crime gang behind over 400 phishing sites
The Ukrainian cyberpolice force neutralized a cyber crime gang that operated more than 400 phishing websites designed to trick Ukrainian citizens into believing they were applying for EU financial assistance. The gang created more than 400 phishing links to obtain victims' bank card data and steal money from their bank accounts. The total damage caused by this fraudulent activity is estimated to be more than ₴100 million (about $3 million) stolen from 5,000 victims.
What's next: