ImmuniWeb Participates at BSCC Event on Generative AI
ImmuniWeb will participate as a speaker at the BSCC Event on Generative AI in Geneva, Switzerland taking place in November, 2023.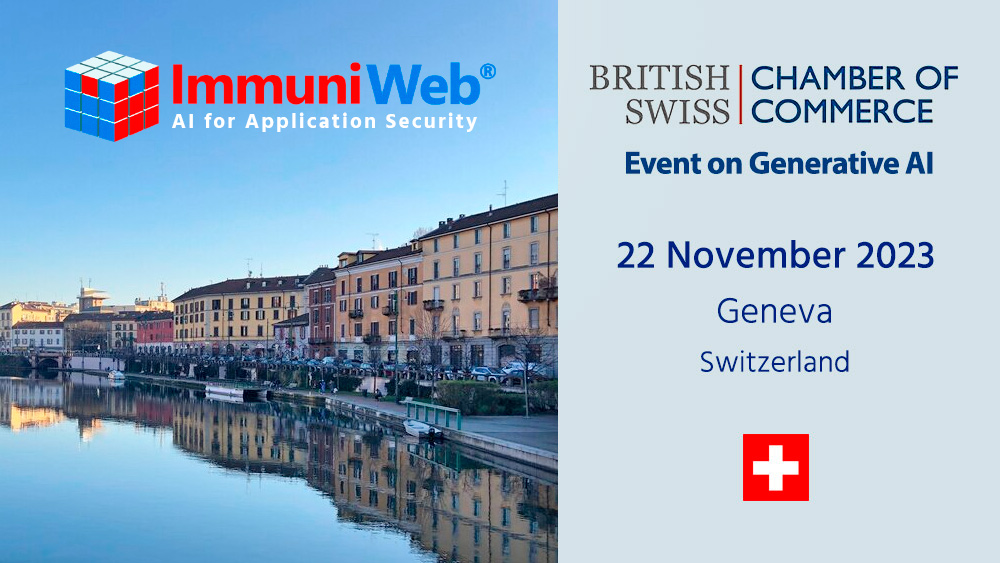 The British Swiss Chamber of Commerce (BSCC) is hosting a live event dedicated to risks and opportunities of Generative AI. Recent breakthroughs of generative AI offer a plethora of unprecedented opportunities to boost efficiency and effectiveness across all industries around the globe. However, novel AI technologies also bring important technical and legal risks to humanity.
During the event, the Expert Panel will address the pressing AI issues, including data and privacy protection, malicious use of AI by hostile nation states and sophisticated cyber threat actors, protection of corporate intellectual property (IP), antidiscrimination and prevention of unfair decision making by AI, enforcement of international law and norms, the impact on people and protection of the most vulnerable in the digital space.
The focus of the Panel will be on the secure, fair and sustainable development of generative AI for the good of all, enabling people to be more productive in their daily lives and at work.
 Our Chief Architect & CEO, Dr. Ilia Kolochenko, will be speaking at the Panel.
The event will take place on:
BSCC Event on Generative AI
22 November, 2023
Crowne Plaza Geneva
Avenue Louis-Casaï 75-77
Geneva, CH-GE 121

The registration for the event is available here. Our clients and partners who are willing to get a free ticket – subject to availability – are kindly requested to contact their client and partner managers respectively.
We look forward to meeting you there!