ImmuniWeb Participates at Cyber Security & Cloud Expo Europe 2023
ImmuniWeb is a sponsor of Cyber Security & Cloud Expo Europe 2023 which will be held on the 26th and 27th of September at the RAI in Amsterdam.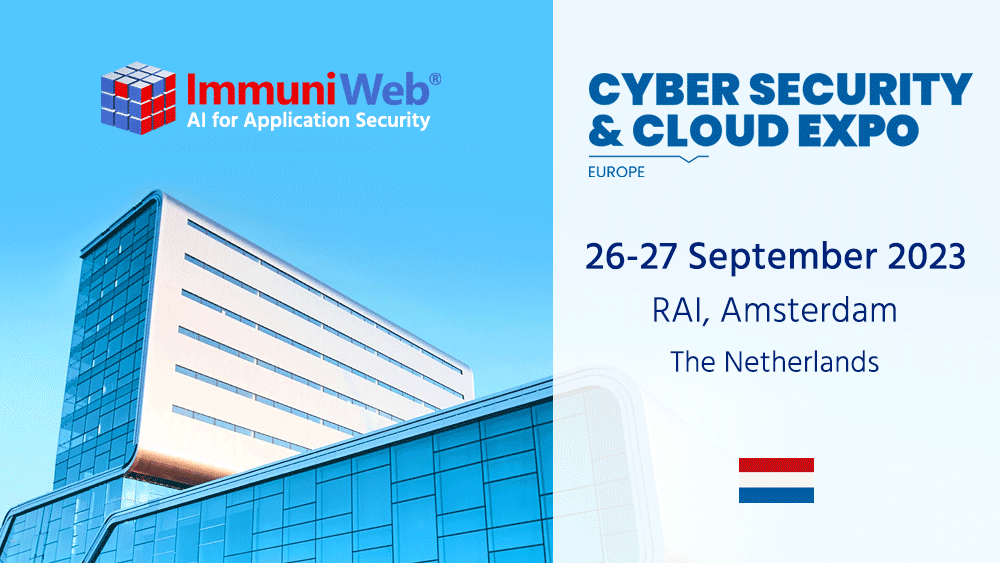 This significant event gathers leaders in cybersecurity, cloud computing, and IoT from all over the globe to share their insights and discuss the latest developments in these areas.
This year ImmuniWeb will be a sponsor of the event along with other key players on cybersecurity market like Cloudflare, RecordedFuture, Rapid7, Varonis, Arctic Wolf, and more. ImmuniWeb will be represented by Andrii Slobodianyk and Antoine Bichler, two of our esteemed team members known for their in-depth knowledge and expertise in cybersecurity. We are happy to announce that Andrii Slobodianyk, a well-known figure in the industry, will be one of the speakers at the Expo.
Andrii will share insights based on his extensive experience in the cybersecurity field and will dive into advanced strategies for securing cloud-based systems. This opportunity to learn from one of the foremost experts in this field is something that attendees will definitely not want to miss.
This participation is in line with our constant commitment to being an active part of the cybersecurity community. By attending and speaking at industry events such as the Cyber Security & Cloud Expo Europe 2023, we aim to share our insights, engage in valuable discussions and contribute to the collective knowledge that drives our industry forward.
We invite all attendees to come and meet us during the event, listen to our insights, and explore potential collaboration opportunities. You can find us at the exhibition area, where we will be showcasing our advanced cybersecurity solutions designed to help businesses identify their most pressing security threats and address them effectively.
By attending the Cyber Security & Cloud Expo Europe 2023, you will not only have the chance to listen to thought leaders and experts like Andrii, but also to network with professionals, explore the latest technologies and solutions, and gain insight into the current trends and future predictions of the cybersecurity and cloud industries.
Cyber Security & Cloud Expo Europe 2023
RAI, Amsterdam, The Netherlands
September 26-27, 2023
Registration