ImmuniWeb Participates at Europol EDEN Community Webinar
Dr. Ilia Kolochenko, ImmuniWeb CEO & Chief Architect, is a Panelist at Europol Data Protection Experts Network (EDEN) Community Webinar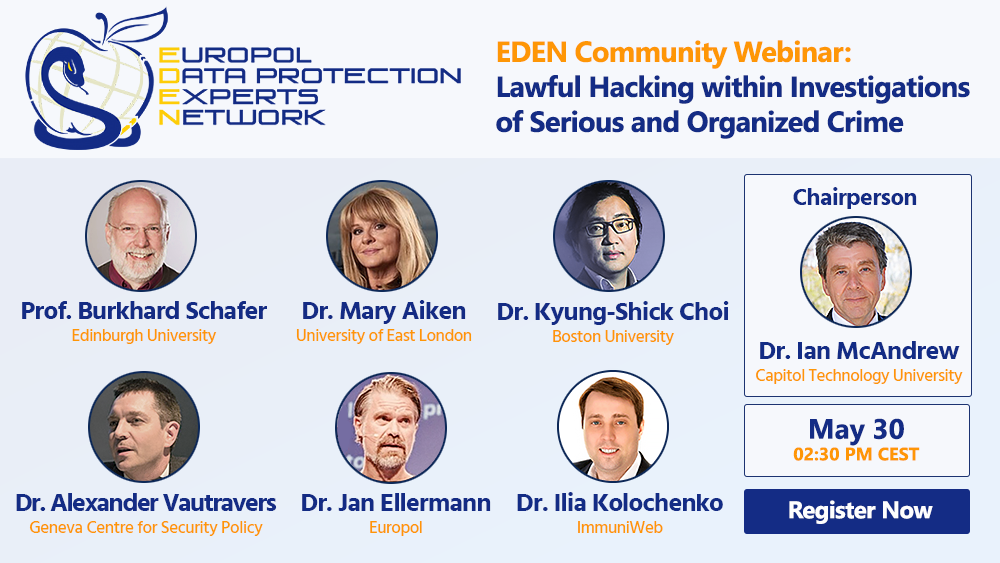 On May 30, 2023, Europol EDEN hosts a Community Webinar "Lawful Hacking within Investigations of Serious and Organized Crime" to discuss the use of lawful hacking technique by law enforcement agencies around the globe when investigating serious and organized crime.
The following topics will be covered by the expert Panelists:
Data protection considerations within lawful hacking
Due process considerations within lawful hacking operations
International law within lawful hacking operations
Usage of cyberwarfare and zero-day proliferation
Q&A session with panelists
The Panelists are:
Dr. Mary Aiken, Professor of Cyberpsychology, University of East London
Prof. Burkhard Schafer, Professor of Computational Legal Theory, Edinburgh University
Dr. Kyung-Shick Choi, Professor of the Practice, Criminal Justice, Boston University
Dr. Alexander Vautravers, Associate Fellow, Geneva Centre for Security Policy
Dr. Jan Ellermann, Senior Data Protection Specialist, Europol
Dr. Ilia Kolochenko, Chief Architect & CEO, ImmuniWeb
The Chairperson is:
Dr. Ian McAndrew, Dean of Doctoral Programs, Capitol Technology University
EDEN Community Webinar
"Lawful Hacking within Investigations of Serious and Organized Crime"
May 30, 2023
02:30 PM CEST
Free Registration
Disclaimer: this event is organised in the context of the Europol Data Protection Experts Network (EDEN). EDEN is an online collaboration platform with the aim of involving stakeholders from various backgrounds e. g. law enforcement, representatives of relevant private parties, academia, NGOs, regulators, legislators etc. EDEN is a channel to present projects, best practices and events linked to data protection in a law enforcement context. Opinions expressed are solely those of the involved individuals and do not express the views or opinions of Europol.