Annual Conference 2012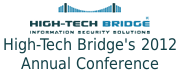 High-Tech Bridge is pleased to announce its yearly security conference taking place in Geneva, Switzerland on the 16th of October 2012:
"HOW TO SECURE YOUR DIGITAL ASSETS IN THE ERA OF CYBER WAR"
From 8h00 to 12h00
at Crowne Plaza Hotel
75-77 avenue Louis Casaï, 1216 Geneva
"Zürich" Hall
The number of guests is limited, please contact us at your earliest convenience to guarantee your attendance at the event by
email
or telephone: +41 22 560 68 42.
The Official Conference Programme is available
here
in order to provide you with the main discussion topics and presentations.
For any further information or requests, please do not hesitate to
contact us
or
Frost & Sullivan
.