ImmuniWeb Participates at the 10th Anniversary CyberDefenseCon 2022 Cybersecurity Conference
CyberDefenseCon 2022 is an in-person exclusive cybersecurity conference that will take place on October 27-28, 2022, in Orlando, Florida, USA.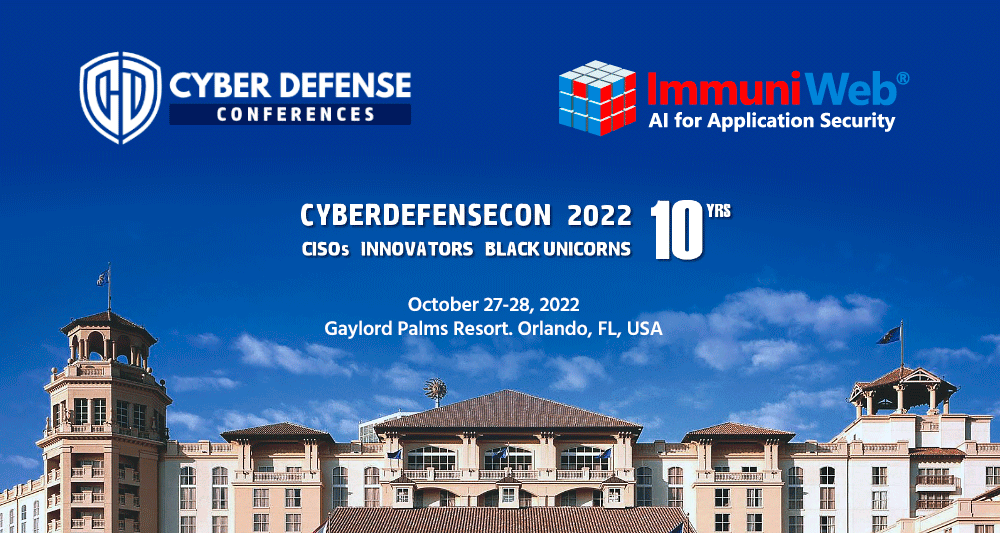 CyberDefenceCon is the place where the top global CISOs and the top InfoSec innovators gather. This year it celebrates its 10th anniversary. Meet your fellow CISOs from Fortune 500 and Key Vertical Market Sectors at expert panels, where they share new ideas and best practices.
CyberDefenceCon is not only an exclusive cybersecurity conference but also:
CyberDefenseAwards - prestigious cybersecurity awards;
CyberDefenseMagazine - b2b/government focus cyber defense magazine;
CyberSecurityMagazine - b2c focus cyber security magazine and news site;
CyberDefenseRadio - executive interviews audio podcasts;
CyberDefenseTV - hotseat, exclusive, newsworthy executive TV interviews.
ImmuniWeb is proud to be among the valuable sponsors of this anniversary event. ImmuniWeb will be featured in CyberDefenseTV "Hotseat" and CyberDefenseRadio "Hotseat" interviews and in its Black Unicorn and InfoSec Innovators Report 2022.
ImmuniWeb is also nominated for this year's anniversary Top InfoSec Innovators Awards.
CyberDefenseCon 2022
October 27, 2022 - October 28, 2022
Gaylord Palms Resort - Orlando, FL, USA
By Invitation Only. Closed To The Press and The Public. Not Recorded.
https://cyberdefenseconferences.com/