ImmuniWeb Named a Winner of the Top InfoSec Innovator Awards 2023
October 26, 2023
ImmuniWeb is the winner in the "Publisher's Choice in Application Security" category of the 11th Cyber Defense Magazine's Annual InfoSec Awards series.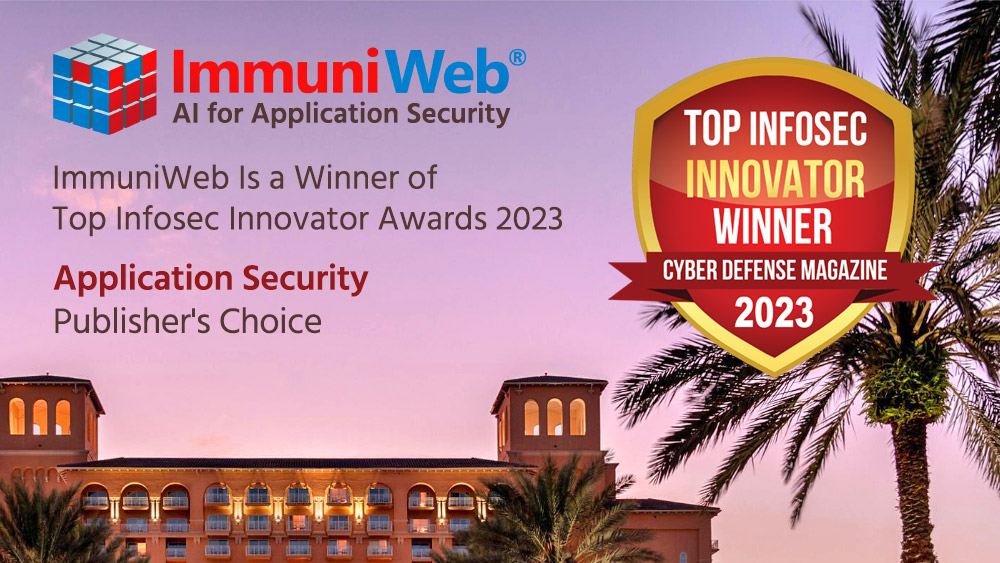 During CyberDefenseCon 2023 in Florida, ImmuniWeb was selected by a Panel of Judges as the winner in "Publisher's Choice in Application Security" category of Top InfoSec Innovator Awards 2023. The invitation-only event gathers global CISOs and leading cybersecurity experts from all over the world. For ImmuniWeb, it will be 9th prestigious award received in 2023 so far.
Gary S. Miliefsky, Publisher of Cyber Defense Magazine, says: "ImmuniWeb embodies three major features we judges look for with the potential to become winners: understanding tomorrow's threats, today, providing a cost-effective solution and innovating in unexpected ways that can help mitigate cyber risk and get one step ahead of the next breach."
Dr. Ilia Kolochenko, Chief Architect & CEO at ImmuniWeb, comments: "We are grateful to the Panel of Judges for this important recognition of our hard work at ImmuniWeb that continually delivers value and excellence to our customers and partners from over 50 countries. Application security becomes a high priority for organizations of all sizes. We are glad that our web, mobile and API security offering remains highly competitive on the global market. I am grateful to the entire ImmuniWeb team and all our customers and partners for their invaluable support. More exciting news are coming soon, please stay tuned."
Yan Ross, Editor of Cyber Defense Magazine, adds: "We scoured the globe looking for cybersecurity innovators that could make a huge difference and potentially help turn the tide against the exponential growth in cyber-crime. ImmuniWeb is worthy of being named a winner in these coveted awards and consideration for deployment in your environment."
About Cyber Defense Magazine
Cyber Defense Magazine was founded in 2012 by Gary S. Miliefsky, globally recognized cyber security thought leader, inventor and entrepreneur and continues to be the premier source of IT Security information. We are managed and published by and for ethical, honest, passionate information security professionals. Our mission is to share cutting-edge knowledge, real-world stories and awards on the best ideas, products and services in the information technology industry. We deliver electronic magazines every month online for free, and limited special editions exclusively for the RSA, BlackHat and Cyber Defense Conferences.
About Cyber Defense Awards
This is Cyber Defense Magazine's 11th year of honoring cybersecurity innovators, in this case the Top Global CISOs for 2023, on our Cyber Defense Awards platform. In this competition, judges for these and other prestigious awards includes cybersecurity industry veterans, trailblazers and market makers Gary Miliefsky of CDMG, Dr. Lindsey Polley de Lopez of VentureScope, Robert R. Ackerman Jr. of Allegis Cyber, Dino Boukouris of MomentumCyber and with much appreciation to emeritus judges Robert Herjavec of Cyderes, Dr. Peter Stephenson of CDMG and David DeWalt of NightDragon.
What's next: