Cyber Security Threats
Cyber security threats are becoming more spread today. With growing big data and rapidly developing cloud services, the question of cyber protection can no longer be ignored. Neither by organizations, nor by individuals.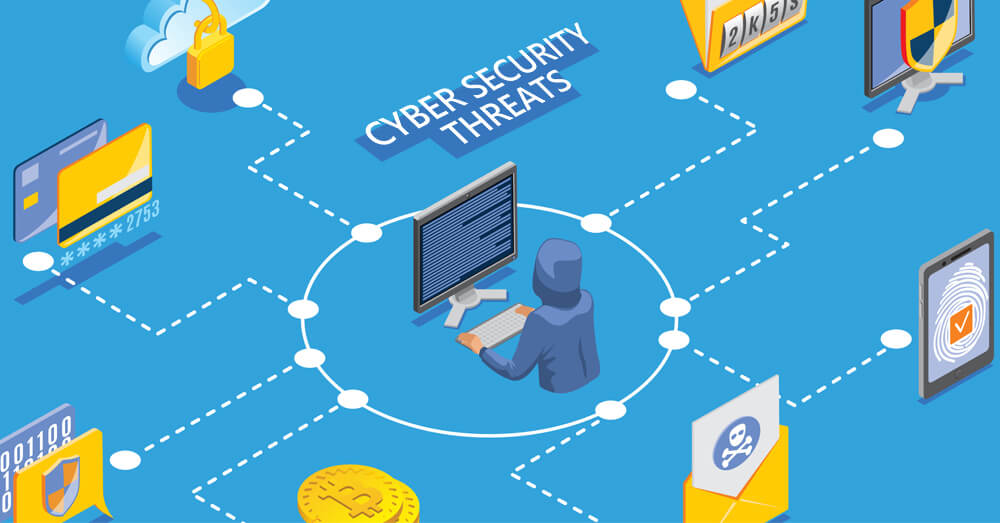 Cyber Security Threats
CONTENTS
1. The Concept of Cyber Security Threats

Concept Of Cyber Security Threats
Though the matter of cyber security threats as well as cyber protection is not new, it is now becoming a big issue. The information technologies are booming in their rapid development, and new approaches in security are necessary to maintain the correct work of any system.
Want to have an in-depth understanding of all modern aspects of Data Loss Prevention? Read carefully this article and bookmark it to get back later, we regularly update this page.
Referring to typical cyber security threats, which can be called digital threats, we can define them as follows:
Cyber security threat - a type of unplanned usually unexpected act of interference in the computer or any type of complex technological system, which can either damage data or steal it.
Such malicious acts are called "cyber attacks". They can be passive and active and the most common among them are:
malware (viruses, worms, etc.)
denial-of-service (DoS) and distributed denial-of-service (DDoS)
phishing
attacks using different kinds of vulnerabilities like cross-site scripting (XSS), SQL injection, etc.
Professional hackers are creating new methods of attacks in order to perform the system interference in the digital space. Some people call it digital weapons, meaning that it is so effective that it may cause serious problems.
It is important to keep an eye on modern technologies and means of cyber security. They exist in various forms, and you just need find the right vendor to meet your requirements. ImmuniWeb provides a full spectrum of protection against cyber security threats, both for web and mobile applications as well as IoT, API, mail servers and more.
The effective way to prevent from cyber security threats is Attack Surface Management which includes asset discovery, security ratings, and dark web and continuous security monitoring. ImmuniWeb Discovery combines all these features.
With the emerging technologies of Artificial Intelligence, Machine Learning and Deep Learning together with blockchain technologies the matter of security has grown dramatically.
2. Typical Cyber Security Threats

Typical Cyber Security Threats
When the computer networks were used solely for state purposes and were closed to the public, there were almost no threats at all.
With the appearance of public networks and the possibility to use open sources as well as to browse the Internet in a totally free way, cybercrime technologies evolved.
Here are some of the most spread "classic" cyber security threats, appeared in the early 80-90s.
Phishing
One of the easiest ways to steal information as well as to get inside the third-party computers is to apply phishing technologies.
Phishing attack usually supposes to present a digital message which fools people, making upload or install the malicious software which will provide access to their data. Such attacks are used to hack corporate and state computer systems.
Malware
Usually it refers to software that performs programmed tasks, being installed from third-side devices.
Such malware was classically transferred via flash drives, CD and DVD - disks, and all types of applicable devices.
Trojans
As a rule, this name is given to a specific type of software which looks like some "standard" one, but appears to carry a suspicious code which affects the system.
A standard antivirus is capable to detect and delete such trojans.
3. Modern Cyber Security Threats

Modern Сyber Security Threats
When we refer to modern cybercrime, it is obvious that it has gone much further than sending simple self-unpacking viruses via mail.
However, the problem of the lack of specialists is marked by the modern researchers. Michele Moore from University of San Diego claims that "the industry continues to suffer from a severe shortage of cybersecurity professionals" (Top Cybersecurity Threats in 2020).
Cryptojacking
This attack refers mainly to interfere with cryptocurrency and hijack computers in order to piggyback the information and related details.
Internet of Things
Though so called "Internet of Things" is rapidly spreading among the users all over the world, the idea of protecting the chain itself is still rather weak and unspecified.
As far as the Internet of Things is made up of a number of smart devices (telephones, computers, laptops, smart watches, household appliances, routers, etc. ), the data transferred among the chain should be carefully protected on each step of the transmitting process.
E-Vehicles and Self-Driving Cars
Another thing to think about is the protection of data on automotive vehicles which are about to appear on the roads. It is said that all vehicles will be connected to the Internet meaning the data will be extremely vulnerable for all types of cyber security threats.
Besides the stealing of data, such interference might be potentially dangerous for both producers and the passengers.
4. How to Protect from Cyber Security Threats

How To Protect From Cyber Security Threats
Even the threats are emerging every day, you should not be frustrated by this fact.
Depending on situations, there are several types of data protection following which you can dramatically decrease chances to be hacked, including:
anti-viruses
usage of strong passwords
precaution in using suspicious websites
timely software updates
security monitoring
However, if the scales of data protection do matter for you and your business, it is better to turn to information security industry leaders.
You can check our ImmuniWeb security blog for more detailed information regarding different types of attacks https://www.immuniweb.com/blog/.
Additional Resources