We Simplify, Accelerate and
Reduce Costs of Application
Security Testing, Protection
and Compliance
"ImmuniWeb disrupts traditional application security testing by delivering web and mobile application testing augmented with proprietary machine-learning technology and human testing."
"ImmuniWeb has woven
together machine learning
with its own expert testers
to confidently offer unique
zero false positive SLA."
ImmuniWeb selected among 100 of the world's most innovative AI solution providers for financial services industry
"ImmuniWeb outperformed
IBM Watson for Cybersecurity
and won in the "Best Usage
of Machine Learning and AI"
Category."
"ImmuniWeb offers true automated penetration testing. Its machine speed allows it to scale, while the human penetration testers ensure complete accuracy."
JVP VC and New York City Economic Development Corporation selected ImmuniWeb to join JVP Play CyberNYC, a leading cybersecurity growth program.
"ImmuniWeb, an AI pioneer and award-winning application security company, stands out among emerging cybersecurity visionaries with its consolidated approach aimed to sharply reduce complexity and costs."
GET a DEMO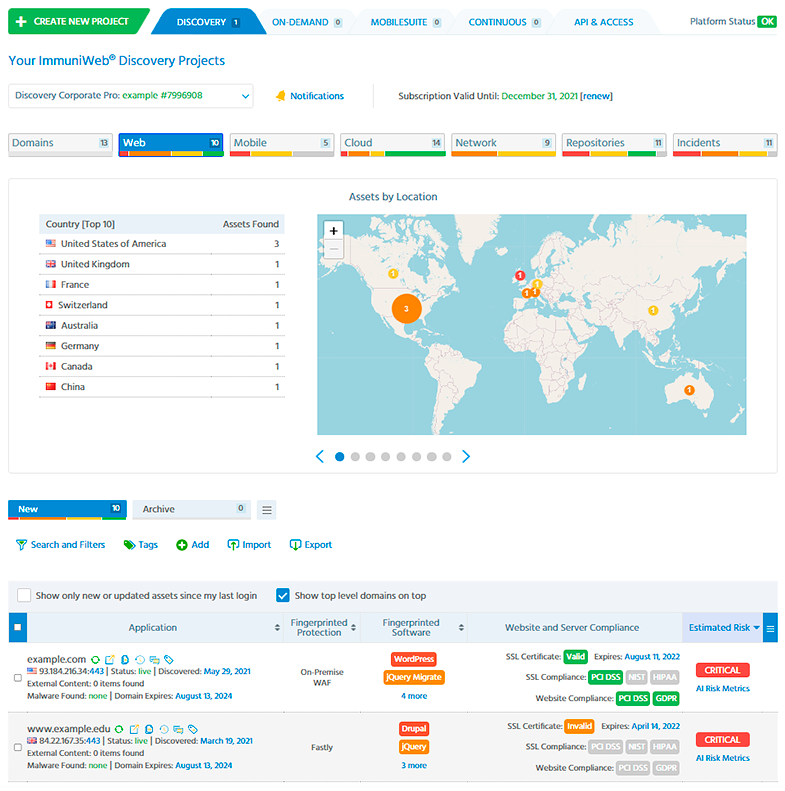 How ImmuniWeb® AI Platform Works
ImmuniWeb® AI Platform illuminates your external attack surface and Dark Web exposure for
well-informed, risk-based and DevSecOps-native application penetration testing.
1
Illuminate Your Attack
Surface to Prioritize Testing
ImmuniWeb® Discovery
Attack Surface & Dark Web Monitoring
Third-Party & Vendor Risk Management
AI-Enabled
Automated
24/7
2
Run Risk-Based Security
Testing and Remediation
ImmuniWeb® On-Demand
Web Penetration Test & Remediation
AI-Enabled
Manual
One-Time
ImmuniWeb® MobileSuite
Mobile Penetration Test & Remediation
AI-Enabled
Manual
One-Time
3
Ensure Continuous Security
Monitoring and Compliance
ImmuniWeb® Continuous
Web Penetration Testing & Remediation
Visibility. Security. Compliance.
Traditional Application Penetration Testing
and Web Vulnerability Scanning
Incomplete visibility of your digital assets
Trivial scanning or costly manual labor
Incomplete or redundant testing
False positives and noise
Protracted remediation
VS
Holistic visibility of assets, risks and threats
AI intensifies and enhances human testing
Risk-based and compliance-driven testing
Moneyback for a single false positive
DevSecOps & CI/CD integration
We Make Applications Secure
ImmuniWeb is an efficient and very easy-to-use solution that combines automatic and human tests. The results are complete, straightforward and easy to understand. It's an essential tool for the development of the new digital activities
Didier Ramella
CISO
ImmuniWeb is the best and simplest way to secure your business online. It's really fantastic experience to get report with zero false positive with detailed actions how to resolve problems and remove vulnerabilities. I think ImmuniWeb is definitely the best alternative to pen testers. As well as a way to save on staff and other costs. I am glad that I can get it all without any hidden costs and without complicated licensing schemes
Nika Vachridze
Senior Information Security Officer
We believe ImmuniWeb platform would definitely address the common weaknesses seen in manual assessments. The AI-assisted platform not only automates the assessments, but also, executes them in a continuous, consistent and reliable fashion. Admittedly, the platform would definitely add quick wins and great ROI to its customers on their investment.
Abuhaneefa Fayaz
Information Security Officer
ImmuniWeb provides accurate assessment on the security posture of our cloud-based applications. The report provided is concise and easy to read with sound advisories on the necessary steps to fix the issues. What impressed me most was that no false-positive was listed and the vulnerabilities are real. ImmuniWeb certainly gives us the right level of assurance that our cloud-based applications are safe and "good-to-go" before we deploy them out to production
Lee Chye Seng
Director, Learning Systems and Applications
ImmuniWeb is an invaluable tool for iPresent with both automated and manual penetration testing. The fantastic manual testing has found even the most hidden and complicated bugs in our security and ImmuniWeb has delivered first class knowledge. The self-service interface also gives us great control to schedule and monitor tests when we need them
Neil Bostrom
Chief Technical Officer
ImmuniWeb is a great innovative service that brings unbeatable ROI. It is undoubtedly the best way to quickly and easily guarantee your customers that their data is safe with you - and yours too by the way! Efficient and effective!
Jean-Michel Beylard-Ozeroff
Head of IT
—
Security tests
performed