Payment Details of 1.2M Cardholders Leak on the Dark Web
Thursday, October 13, 2022
Read Time:

2 min.
Read also: Microsoft fixes a Windows zero-day, Mango Markets DeFi platform robbed of over $100M, and more.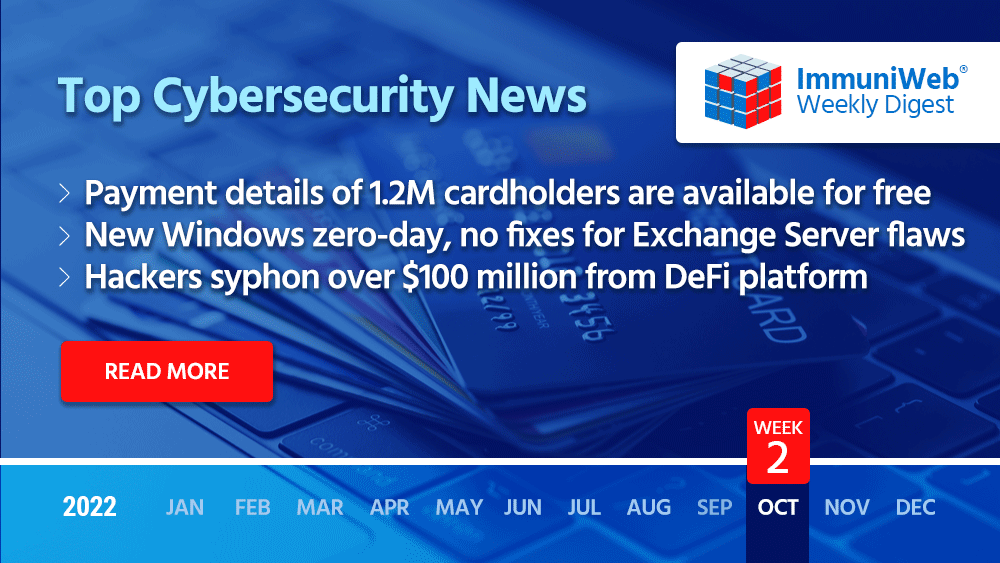 Payment details of 1.2M cardholders are available for free on the dark web
The operators behind the BidenCash card trading marketplace have released payment details of more than 1.2 million stolen credit cards for free in an effort to promote new site domains after the shop suffered a series of distributed denial of service (DDoS) attacks in September.
The leaked database contains data for 1,221,551 credit cards expiring between 2023 and 2026, such as names, bank names, home addresses, emails, telephone numbers, social security numbers, card numbers and types (no PIN numbers included). The majority of cards in the data dump appear to be from the United States.
Microsoft's October 2022 Patch Tuesday addresses a new Windows zero-day, no fixes for Exchange Server flaws yet
Microsoft has rolled out its monthly batch of security updates designed to patch over 80 security vulnerabilities. Sadly, October 2022 Patch Tuesday does not include a fix for the two recently disclosed Exchange Server zero-days collectively known as "ProxyNotShell" that are being exploited in the wild, but it addresses another zero-day flaw in the Windows COM service.
Tracked as CVE-2022-41033, the zero-day is a buffer overflow issue that can be exploited by a local attacker to achieve remote code execution with SYSTEM privileges on the targeted system. Microsoft didn't offer any details regarding the exploitation of the vulnerability, or was it leveraged in targeted or more widespread attacks.
In addition to CVE-2022-41033, the tech giant has patched a publicly disclosed Microsoft Office vulnerability (CVE-2022-41043), which puts at risk potentially sensitive information.
Currently, there is no information on when a fix for the ProxyNotShell security issues will be available to Windows users.
Hackers syphon over $100 million from DeFi platform Mango Markets
Mango Markets, a Solana-based crypto trading platform, has lost more than $100 million in cryptocurrency in a security incident where hackers performed a flash loan attack to drain funds from the company.
The attackers did so by buying a large amount of MNGO tokens on Mango on two separate accounts and then artificially raising the price of MNGO. Price manipulation allowed the attackers to borrow and withdraw Bitcoin, USDT and more cryptocurrency from Mango's protocol.
This is the latest incident in a long series of hacks that hit cryptocurrency industry since the start of the year. Last week, hackers stole around $560 million in cryptocurrency from Binance Smart Chain blockchain bridge.
Websites of major US airports knocked offline after a cyber-attack
More than a dozen US airports were targeted in a series of DDoS attacks coordinated by the pro-Russia hacktivist group Killnet, known for its cyber-attacks on Ukraine's allies.
Fourteen airport websites were reportedly hit, but the attacks had no impact on flight operations at any airport. Targets included Los Angeles International (LAX), Chicago's O'Hare (ORD), Atlanta's Hartsfield-Jackson International (ATL) airport, Orlando International Airport (MCO), Denver International Airport (DIA), Phoenix Sky Harbor International Airport (PHX), as well as airports in Kentucky, Mississippi, and Hawaii.
NCSC provides a new guidance to help organizations secure supply chains
The UK's National Cyber Security Centre (NCSC) has issued a new guidance designed to help medium and large organizations to ensure the cyber security of their supply chains.
The new guidance comes as a response to a significant rise in cyber attacks exploiting weaknesses within supply chains in the past few years. It describes ways that organizations are exposed to vulnerabilities and cyber attacks through the supply chain, defines expected outcomes and offers supply chain security best practices.
What's next: