Police Detective in Buffalo, New York, Charged with Purchasing Stolen Account Credentials
Read also: nearly 300 people involved in drug trafficking arrested by international police, feds seized Helix admin's brother jailed for bitcoin stealing, and more.
Views:

6.6k
Read Time:

3 min.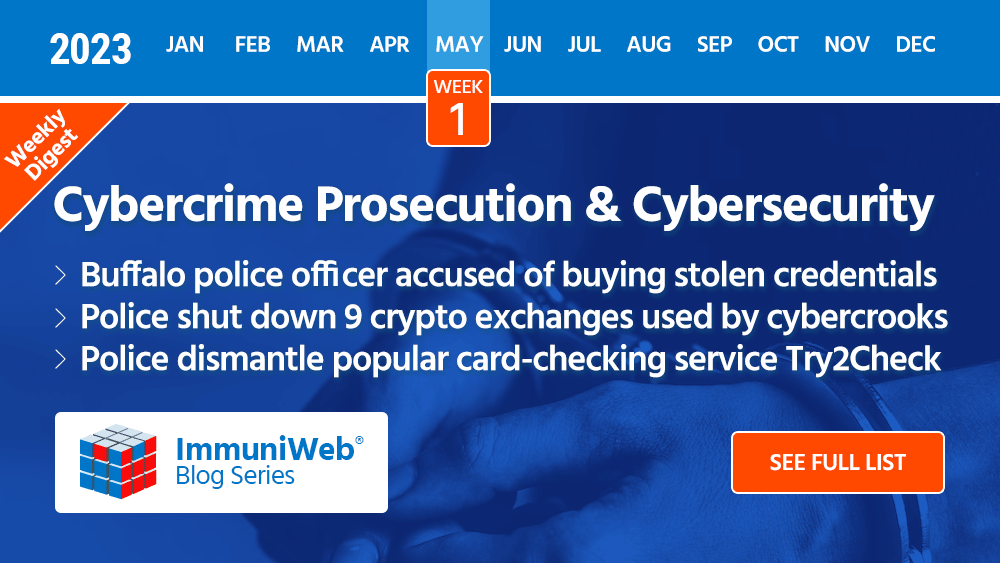 Buffalo police detective accused of buying stolen credentials via Genesis Market
A police detective in Buffalo, New York, has been charged with purchasing stolen account credentials and other personally identifying information (PII) using the recently dismantled Genesis Market dark web platform.
The US Department of Justice alleges that Terrance Michael Ciszek, 33, bought 11 product "packages" on Genesis Market between March and July in 2020 that included 194 sets of stolen account credentials. Ciszek, who allegedly used online alias "DrMonster," also had bitcoin wallet addresses linked to the UniCC dark web carding website. He has been suspended with pay by the Buffalo Police Department pending further internal investigation.
Ciszek may face up to 10 years in prison and a $250,000 fine if convicted.
Similar charges have been brought against another Buffalo man, Corey Robert Dodge (aka Cakesbaylor), 41, who has been accused of buying 14 packages on Genesis Market between March 2020 and May 2021 that included over 8,000 sets of stolen account credentials for a variety of services, including Paypal, eBay, Amazon, FedEx, Etsy, Walmart, Chase, and Venmo.
FBI, Ukrainian police shut down nine crypto exchanges used by cybercrooks
The US Federal Bureau of Investigation (FBI) and Ukraine's National police have announced the takedown of nine virtual cryptocurrency exchanges used by ransomware gangs, scammers, and other cybercriminals to conceal the true source of illegal proceeds.
As part of the joint law enforcement operation domain names 24xbtc.com, 100btc.pro, pridechange.com, 101crypta.com, uxbtc.com, trust-exchange.org, bitcoin24.exchange, paybtc.pro, and owl.gold were seized by the authorities.
Police have also shut down servers hosting the afore mentioned websites located in the US and Europe.
Police dismantle popular card-checking service Try2Check
The US authorities together with their counterparts in Germany, Austria, and France shut down Try2Check, a popular credit card verification platform used by cybercriminals to check the validity of stolen credit cards.
The US Department of Justice has also announced charges against Denis Gennadievich Kulkov, the alleged owner of the site who currently resides in Russia.
Established in 2005, the service performed tens of millions of credit cards checks per year, charging 14 cents per card check. Denis Kulkov is estimated to have made at least 18 million in bitcoin through Try2Check. If found guilty, Kulkov faces up to 20 years in prison.
Additionally, the US State Department is offering a reward of up to $10 million for information leading to the arrest and/or conviction of Try2Check's owner, and a separate reward of up to $1 million for information that will allow to identify other key members of the cybercrime group.
Nearly 300 people involved in drug trafficking arrested in international police operation
288 dark web vendors and customers have been arrested as part of a major international police operation following an unannounced takedown of the "Monopoly Market" underground marketplace that offered for sale drugs and other illicit goods.
Europol has confirmed for the first time that the sudden shutdown of Monopoly Market in December 2021 was a result of an operation conducted by German police. Based on data and evidence collected by the German authorities hundreds of national investigations were launched, which eventually led to the arrests of nearly 300 people involved in drug trade.
As part of the operation, codenamed 'SpecTor,' €50.8 million ($55.9 million) in cash and cryptocurrency and 850 kg of drugs were seized by the police, as well as 117 firearms.
Helix admin's brother sentenced for stealing 712 bitcoins seized by feds
Gary James Harmon was sentenced to four years and three months behind bars over the theft of 712 bitcoin seized by law enforcement after the arrest of his brother, Larry Harmon, the operator of the darknet bitcoin mixer Helix.
Helix, which worked with several darknet marketplaces, including AlphaBay, Evolution, Cloud 9 and others, offered bitcoin money laundering services for market customers. In total, Helix laundered over 350,000 bitcoin.
Larry Harmon run Helix from 2014 to 2017. He was arrested in February 2020, with the police seizing various assets including a hardware wallet, which stored over 700 digital coins obtained through Helix operations. However, the investigators were initially unable to recover the digital assets due to the device's "advanced security features." Knowing this, Gary Harmon used his brother's credentials to transfer the funds from the device to his own wallets.
He agreed to forfeit to the state the digital coins he stole, including more than 647 Bitcoin (BTC), 2.14 Ethereum (ETH), and 17,4 million Dogecoin (DOGE) with a total value of over $20 million.
What's next: