Brian Martin
Advisory Board Member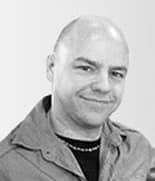 Brian Martin has been studying, analyzing, collecting and cataloging vulnerabilities as a professional activity and a hobby for more than 15 years.
Starting with a personal collection organized in the FILES.BBS format and ultimately becoming the Moderator of the Open Source Vulnerability Database (OSVDB), where he processes hundreds of vulnerabilities daily, Mr. Martin has pushed for the evolution of Vulnerabilities Databases for many years for the benefit of the information security industry. He has been involved in all aspects of the vulnerability disclosure process, including finding new vulnerabilities, writing security advisories, coordinating disclosure with vendors and working with a variety of organizations to improve their vulnerability handling and response.
Currently, Mr. Martin is the COO of Open Security Foundation and a CVE Editorial Board member. His unique experience and expertise make him one of the most respected leaders in Vulnerability Management and a sought-after speaker at well-known security conferences, such as DEFCON, BlackHat, BruCON and many others.
Back to List