Jan Schreuder
Special Advisor to CEO, Advisory Board Member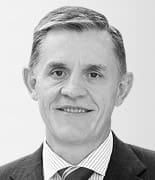 Jan Schreuder is an independent consultant providing advisory and strategic consulting services to Management and Boards, specifically focused on Cybersecurity, Digital Strategy and Transformation. He also works with technology startups who have new and innovative solutions to help connect them with businesses who need those solutions.
Jan is a well-known veteran of the IT and cybersecurity industry and has over thirty years of experience in the industry as a leader and practitioner. He regularly presents at public forums on topics related to cybersecurity, innovation, and the use of advanced analytics and artificial intelligence techniques to identify and mitigate cyber threats. He has been an active advocate for greater collaboration and information sharing between the private and public sectors in combating cybercrime.
He was previously a Partner at PwC in Switzerland, Australia and South Africa for more than 25 years, where he held various leadership roles. He is well respected as a trusted advisor on technology, information security and privacy, regulatory and risk-related matters to large multinational organizations, especially in the financial services industry. He holds a Bachelor of Commerce (Honours) and Chartered Accountant by training, and is a Fellow of Chartered Accountants Australia New Zealand (FCA).
Jan has a keen interest in education, specifically the promotion of STEM education and training and the increased participation of women in the IT industry. He has lectured at post-graduate level at a number of universities. Jan has been on the Abbotsleigh School for Girls School Council for eight years (2004 – 2012), serving as Treasurer of Council.
Back to List