ImmuniWeb Participates at Cybersecurity Trends in 2023 and Business Protection Conference
Join Andrii Slobodianyk, ImmuniWeb's Global Partnership Director, at the upcoming cybersecurity conference in Zagreb, Croatia, on May 17th, 2023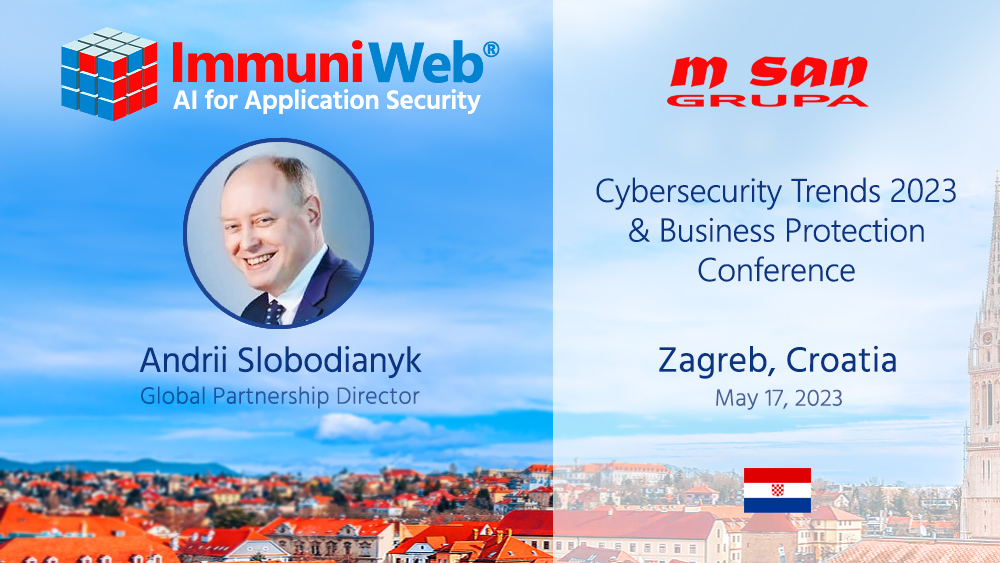 We are excited to announce that ImmuniWeb will participate at the Cybersecurity Trends in 2023 and Business Protection Conference, organized by M SAN Grupa d.o.o. in Zagreb, Croatia. The conference will take place at Hotel International on May 17th, 2023, and will gather regional partners and end users from Croatia, Slovenia, Serbia, Bosnia and Herzegovina, North Macedonia, Albania, and Kosovo.
Andrii Slobodianyk, Global Partnership Director of ImmuniWeb, will join the panel of experts discussing the latest cybersecurity trends and challenges of 2023. The conference will feature two parallel tracks – a sales track and a technical track – tailored for demonstrations and workshops. The event aims to present the latest developments in the cybersecurity landscape and create a valuable networking opportunity for attendees.
This is a unique chance to raise awareness about penetration testing and showcase the ImmuniWeb's expertise in the rapidly changing cybersecurity landscape. ImmuniWeb will be happy to connect with potential clients, partners, and industry experts in the region.
We invite you to join us at this exciting event and engage with Andrii Slobodianyk and other cybersecurity professionals. Register now and be part of the conversation about the future of cybersecurity and business protection.
Event details:
Cybersecurity Trends in 2023 and Business Protection Conference
Hotel International, Zagreb
May 17th, 2023
Organizer: M SAN Grupa d.o.o.
Type: Participant with partner
Stay updated on ImmuniWeb's participation in this event by following our LinkedIn page and checking our website for announcements.