ImmuniWeb Will Participate at the Noord Infosec UK 2022 Dialogue
ImmuniWeb team will be happy to meet the guests of the event which will take place at Crowne Plaza, Gerrards Cross, on May 24 and 25, 2022.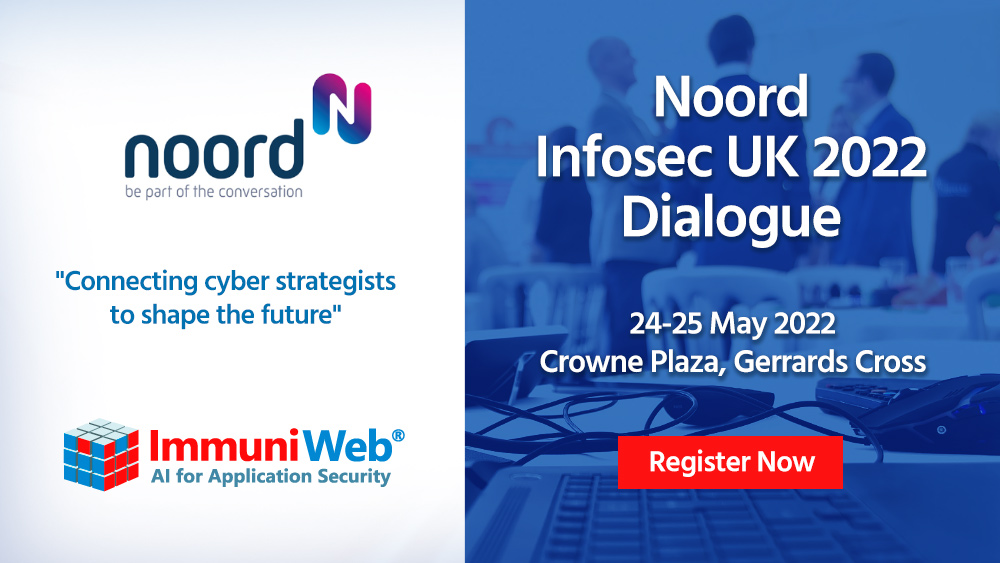 The Noord Infosec UK 2022 Dialogue is a must-attend event for CISOs, Directors and Heads of Information Security, as we explore and define the future role of the CISO to enable business growth through digital transformation. This cross-sector dialogue features a carefully researched programme that delivers interactive case studies, workshops and one-to-one meetings allowing you to head back to the office with actionable insight to not only develop your strategy but put it into practice.
The intensive 2-day programme is packed with intelligence and opportunities to put your business in a leading position. True peer-to-peer engagement is delivered in the most powerful and engaging formats where we will be addressing challenges such as:
The changing role of the CISO
Gaining the most from phishing simulations
Managing application security
Maturing security under a pandemic
The growing threat of ransomware attacks
Attacks via the supply chain: Managing your third parties
Security challenges and cloud migration
Noord Infosec UK 2022 Dialogue
Crowne Plaza Hotel, Gerrards Cross
24 and 25 May, 2022
You can find more information and register here.