Top 10 Cybercrime and Cybersecurity Trends in 2022
Join the SecureLink ImmuniWeb webinar with Ilia Kolochenko, ImmuniWeb CEO, Founder and Chief Architect, to learn about the latest cybercrime and cybersecurity trends.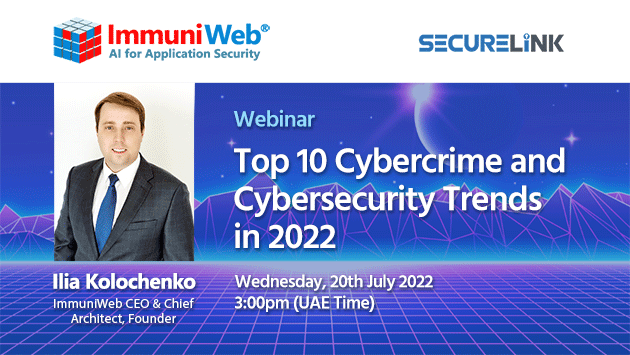 ImmuniWeb CEO & Chief Architect, Ilia Kolochenko says: "Organizations around the globe should start taking skyrocketing cybercrime seriously and spend more money to protect their data, repuration, and customers. Spending more, however, does not necessarily mean spending wisely: we need to have the right people, well-thought processes and a systematic approach to build a robust and resilient cybersecurity strategy."
Efficient and effective cybersecurity program starts with holistic visibility of your digital assets and continuous monitoring of the constantly evolving cyber threat landscape.
Join to learn about:
The emerging cyberthreats and attack techniques used by cybercriminals
The latest countermeasures and proactive defence
Practical insights on how to enhance your cyber defence and compliance
SecureLink ImmuniWeb Webinar
"Top 10 Cybercrime and Cybersecurity Trends in 2022"
Wednesday, 20th July 2022 | 3:00 (UAE Time)
Speaker: Ilia Kolochenko, ImmuniWeb CEO, Founder & Chief Architect
20 July, 2022
More info: https://www.securelinkme.net/events/v2/SecureLink-ImmuniWeb-Webinar-20th-July-2022