High-Tech Bridge to Leverage AI and Big Data to Map Application Security Risks and Threats
October 24, 2018
Just with a company name, ImmuniWeb® Discovery AI visualizes Hackability and Attractiveness scores of all your corporate web applications.
High-Tech Bridge, the Winner of SC Awards Europe 2018 in "Best Usage of Machine Learning / AI" category, announces today ImmuniWeb® Discovery AI to conduct threat-aware risk assessment and inventory of websites and web applications.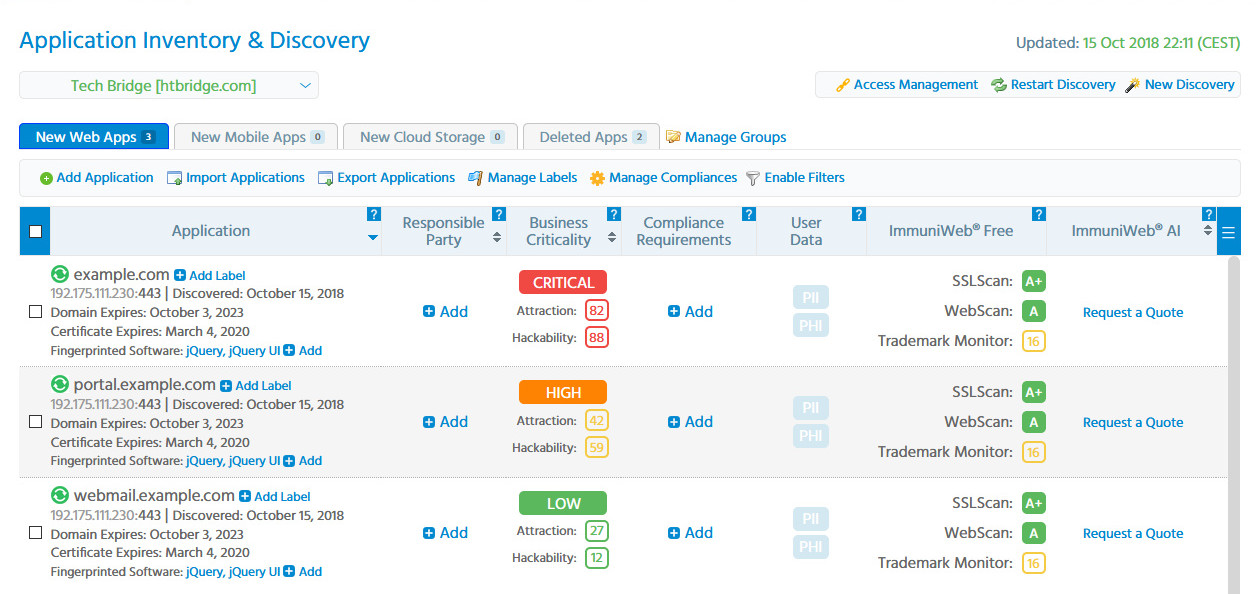 ImmuniWeb® Discovery AI Dashboard
Insecure and outdated web applications are a core source of high-profile data breaches. High-Tech Bridge's research on FT 500 global companies conducted in October 2018 reveals that abandoned, shadow and legacy web applications virtually nullify their corporate cybersecurity spending and undermine compliance.
ImmuniWeb Discovery, one of the award-winning products of ImmuniWeb® AI Platform by High-Tech Bridge, just requires a company name and its main website as an input to start comprehensive OSINT reconnaissance of all external web and mobile applications, web-based APIs and micro services, domain names, SSL certificates and unprotected cloud storage (e.g. AWS S3 buckets) attributable to the company.
The novel AI version of the application discovery offering leverages Machine Learning and Big Data composed of 853,783,291 samples of web vulnerabilities, weaknesses, breaches and misconfigurations to predict application's Hackability and Attractiveness without conducting any intrusive testing:
Hackability Score (from 1 to 99) provides an estimation of how easily the web application can be hacked from a technical point of view.
Attractiveness Score (from 1 to 99) provides an estimation of how attractive the web application is for an average cybercrime group.
High-Tech Bridge's CEO and Founder, Ilia Kolochenko, says:
"Concerns about cybersecurity skills shortage are growing even faster than global cybercrime. Security professionals are being increasingly overloaded with a great variety of tasks, often of a trivial or routine nature. Few companies have time and resources to build a thorough application security strategy, desultory spending on divergent solutions to get hacked at the end of the day. DevSecOps fails.
At High-Tech Bridge, we continuously innovate and develop new Machine Learning technologies to unburden cybersecurity experts and empower them to focus on important tasks. ImmuniWeb® Discovery AI enables CISOs and their teams to identify external attackable surface in actionable manner to timely address emerging threats. We deliver a pragmatic, risk-based approach that reduces overall application security spending and prevents data breaches.
We are currently working on other cool stuff to pioneer the application security industry, stay tuned."