ImmuniWeb Named a Key Player on the AI in Cybersecurity Global Market
May 13, 2019
A recent research by MarketsandMarkets distinguishes ImmuniWeb® as a Key Player among such companies as IBM, FireEye and Darktrace.
ImmuniWeb is glad to announce another important recognition of its continuous efforts in Machine Learning and AI.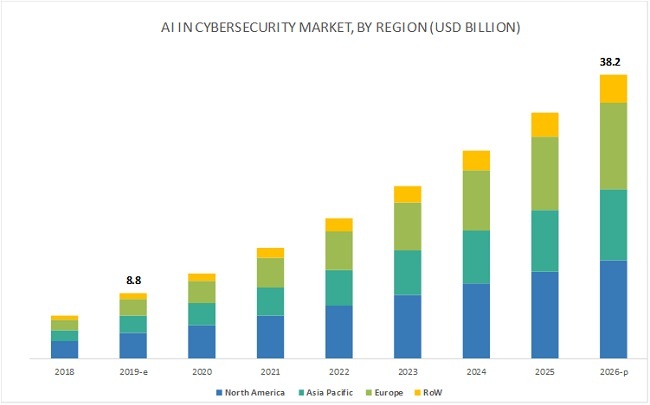 AI in Cybersecurity Global Market © MarketsandMarkets, 2019
Previously, its ongoing success and innovation were mentioned in industry researches by such leading companies as Gartner, IDC and Frost & Sullivan. The new dedicated report by MarketsandMarkets provides a detailed review of the following Key Players:
14.1.1 NVIDIA
14.1.2 Intel
14.1.3 Xilinx
14.1.4 Samsung Electronics
14.1.5 Micron Technology
14.1.6 IBM
14.1.7 AWS
14.1.8 Darktrace
14.1.9 Cylance
14.1.10 Vectra AI
14.1.11 ThreatMetrix
14.1.12 Securonix
14.1.13 Sift Science
14.1.14 Acalvio Technologies
14.1.15 Sparkcongnition
14.1.16 Palo Alto Network
14.1.17 Fireeye
14.1.18 Symantec
14.1.19 Fortinet
14.1.20 Check Point Software Technologies
14.1.21 ImmuniWeb
ImmuniWeb's practical usage of Machine Learning and AI in the application security testing remains unique on the global market and is leveraged to accelerate testing, increase reliability of testing and considerably reduce its costs.
The [229 pages] report further says that the artificial intelligence in cybersecurity market is projected to reach USD 38.2 billion by 2026 from USD 8.8 billion in 2019, at the highest CAGR of 23.3%.
Major drivers for the market's growth are growing adoption of IoT and increasing number of connected devices, rising instances of cyber threat, growing concerns of GDPR, and increasing vulnerability of Wi-Fi networks to security threats.