ImmuniWeb Launches Partner Portal
May 1, 2019
ImmuniWeb® Partner Portal provides a rapid and simple way for receiving new leads, register deals and get a centralized access to partner toolkits and documentation.
ImmuniWeb, a global provider of web, mobile and API security testing and risk ratings, is pleased to announce that it has attained a sustainable growth in its global partner base.
More business seek to leverage a rapid, DevSecOps-enabled and false-positives free application penetration testing by ImmuniWeb's award-winning AI and Multilayer Application Security Testing technology, driving new sales inquiries to existing and future Partners.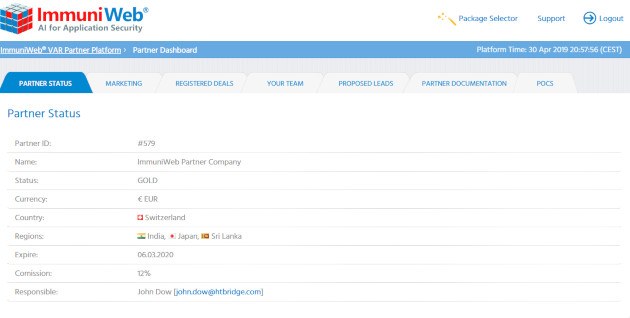 To facilitate further frictionless growth of Partner Channel, the Partner Portal provides the following functionality to all ImmuniWeb Partners:
Deal registration
Rapid technical and pre-sales support
Request of free Partner licenses for some of the ImmuniWeb products
Access to Partner Marketing documentation and Toolkits
Access to incoming hot leads and lead management
Assistance with scoping and quotation for clients
Income management and Partner billing
Ekaterina Khrustaleva, Chief Operating Officer at ImmuniWeb, says: "We are delighted to welcome new partners from different regions on a weekly basis. To enable fast and smooth communications with all of them regardless of a time zone and public holidays, we gladly present our brand-new Partner Portal aimed to address the most frequent Partners' requests in an instant and reliable manner.
More features and options to further facilitate and accelerate partner business are coming soon, please stay tuned."
ImmuniWeb VAR Partner Program was launched in June 2018, and counts today partners from over 25 countries. To apply to the program please click here.