ImmuniWeb® Platform Starts Accepting Payments in Cryptocurrencies
January 30, 2018
High-Tech Bridge now accepts secure instant payments in over 50 cryptocurrencies for its web and mobile application security services.
Following Microsoft's announcement to accept Bitcoin for its Windows and Xbox online stores, High-Tech Bridge believes now is the time to facilitate access to cybersecurity services for the skyrocketing number of blockchain startups.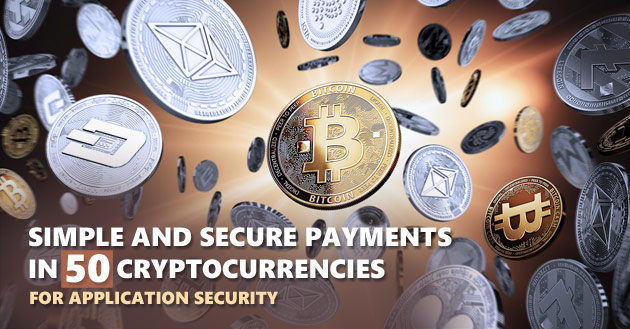 The majority of digital coins theft cases involve insecure mobile or web applications. Vulnerable applications are a low-hanging fruit for cybercriminals: they are easy to hack and usually contain, or provide access to, the critical data and even access to the digital wallets.
Many blockchain startups hesitate to spend their scanty reserves of fiat money on cybersecurity, preferring to pay in various digital currencies or tokens. To provide them with simple and convenient access to web and mobile application security services, High-Tech Bridge's award-winning ImmuniWeb® Platform now accepts instant payments in over 50 digital currencies including Bitcoin and Ether.
Nowadays, almost every morning is sadly marked with a new breach of a cryptocurrency startup or exchange. Industry experts estimate that in less than a decade, cybercriminals will have stolen $1.2 billion worth of Bitcoin and Ether, mainly from the pockets of naïve investors and innocent users.
A report published by Ernst & Young says that cybercriminals stole $400 million of digital currencies during ICOs last year. The notorious Mt. Gox's breach was outshined last Friday when Japan's biggest cryptocurrency exchange Coincheck announced a $400 million loss caused by hacker attack.
High-Tech Bridge's CEO and Founder, Ilia Kolochenko, comments: "At High-Tech Bridge, we are committed to deliver groundbreaking application security services capable to solve problems of our customers more efficiently and effectively. Our security engineers, Machine Learning experts and AI scientists work very hard to create new algorithms and technologies to reduce costs, increase speed and reliability of application vulnerability detection. Our continuous innovation is globally recognized by many prestigious awards, and most importantly - by our customers. We also try to facilitate and improve tangential processes, such as online payments.
When we launched ImmuniWeb in 2014, we were the first application security vendor to accept online payments by credit card and PayPal. Today, a huge market segment wants to pay in cryptocurrencies to protect data and customers. We are happy to make this possible for the benefit of the emerging blockchain industry.
It is important to highlight, however, that we do not endorse any particular digital currency. High-Tech Bridge does not store or invest in any digital coins but enables our customers to perform secure instant payments in them."
Johann Schneider-Ammann, Swiss economics minister, considers Switzerland to become a crypto-nation. Some Swiss municipalities allow paying taxes in Bitcoin, while others offer ski passes for Bitcoins.
According to PwC, High-Tech Bridge's strategic partner, Switzerland is also a major hub for Initial Coin Offerings (ICO) due to its friendly regulatory environment and political stability, out of the six largest ICOs, four were hosted in Switzerland.
High-Tech Bridge also provides various free web security services that, for example, can help blockchain startups to promptly detect phishing websites targeting their customers or impersonating their brand.