ImmuniWeb Discovery to Reduce Complexity and Costs of DevSecOps and Dark Web Monitoring
September 16, 2019
The ground-breaking product offers an all-in-one solution to illuminate an organization's attack surface, to scorecard asset security and compliance, and to shed light on data leaks and Dark Web exposure.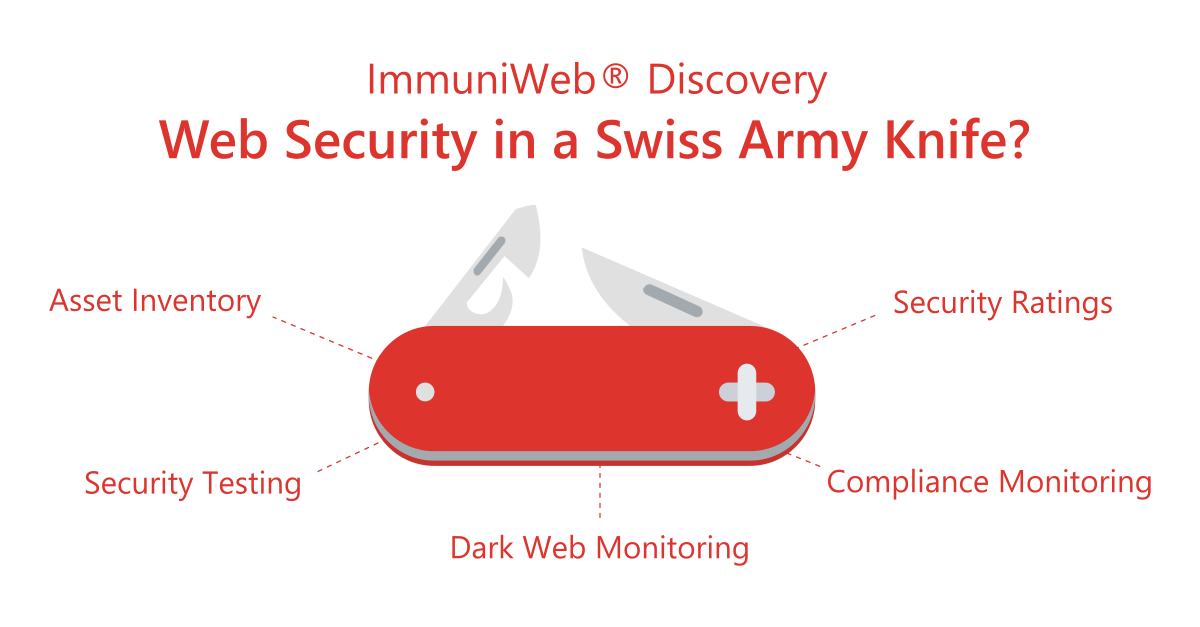 ImmuniWeb, a global application security testing and security ratings company, is thrilled to announce the launch of ImmuniWeb® Discovery that now offers:
Continuous discovery of external digital web assets
Actionable security ratings of asset hackability and attractiveness
Continuous web security testing, best practices and compliance monitoring (PCI DSS, GDPR)
Continuous monitoring of data leaks, source code exposure, phishing and domain squatting
Monthly subscription starting at $99 per organization
The entire process is production-safe and tailored to ensure availability and accessibility of the monitored assets. Simply enter your company name and main website URL to get a helicopter view of your assets, measured and scored.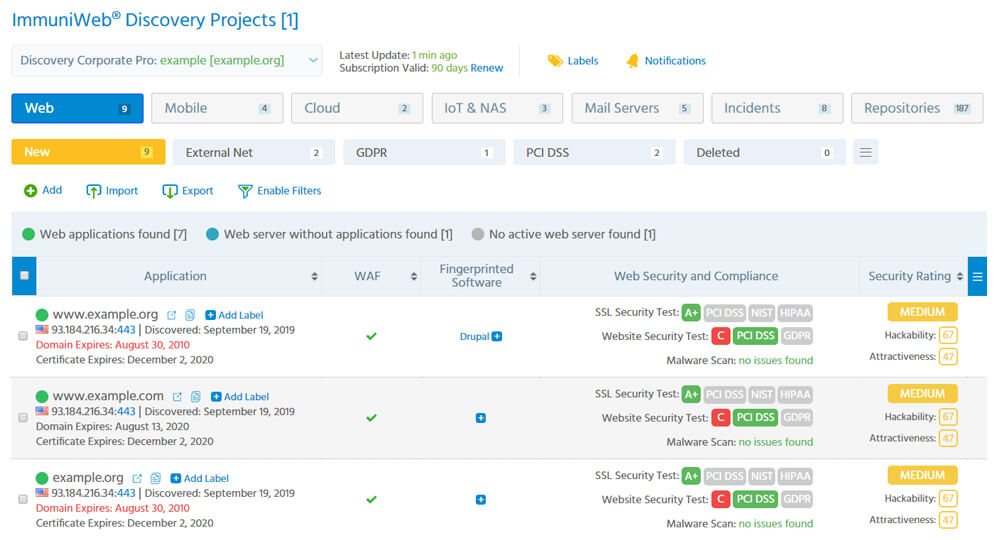 ImmuniWeb® Discovery substantially diminishes application security complexity and operational costs by:
Eliminating grey areas, illuminating shadow and abandoned assets
Delivering actionable security metrics to better prioritize risks and threats
Reducing time and effort required to manage application security and compliance
Detecting data leaks incidents and intellectual property infringement in a timely manner
Unburdening security teams from routine activity to focus on business-critical tasks
Ilia Kolochenko, CEO and Founder of ImmuniWeb, says: "The mushrooming number of security vendors with overlapping solutions has created a convoluted and difficult to manage security landscape for many large and small organizations.
"Security analysts and developers waste a considerable amount of their time identifying, prioritizing and coordinating their efforts. ImmuniWeb Discovery offers a consolidated approach to address these costly challenges in a simple, measurable and predictable manner. Its accessible price, effortless deployment and holistic approach bring peace of mind to organizations of all sizes."
"At ImmuniWeb we are proud and thrilled to announce this new flagship product after many months of hard and skillful work. ImmuniWeb Discovery now vastly expands horizontal and vertical niches of application security testing market where we will deliver value and excellence to our customers and partners."
"Those happy with foundational security will probably find all they need in Discovery, while organizations with mature DevSecOps programs will better prioritize and coordinate their in-depth testing efforts eventually cuttings the costs and saving their time. For others companies, it will finally open a door to continuous monitoring of Dark Web and brand protection that they currently cannot afford. We are truly excited to enable them all attaining their diversified goals."
Product sale starts this Wednesday, 18 September. Full product description and detailed packages are available here.