Three Gartner Hype Cycles 2017 list High-Tech Bridge as a Sample Vendor
July 27, 2017
High-Tech Bridge named a Sample Vendor in ASTaaS category entering Plateau of Productivity in 3 different Gartner Hype Cycles 2017.
High-Tech Bridge, a leading web security company, is pleased to announce that it has been identified as a Sample Vendor in the July 2017 Gartner reports "Hype Cycle for Application Services, 2017", "Hype Cycle for Cloud Security, 2017" and "Hype Cycle for Midsize Enterprises, 2017". High-Tech Bridge's Application Security Testing Platform ImmuniWeb® was named in the "Application Security as a Service category."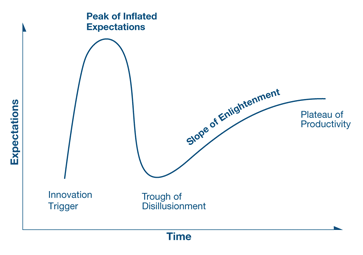 Each Hype Cycle drills down into the five key phases of a technology's life cycle.
"Gartner client inquiry indicates that many organizations opt for ASTaaS (Application Security as a Service) due to the complexity often associated with operating on-premises application security tools often combined with a shortage of application security specialists… Application security as a service offers many benefits to enterprises as a way to reduce upfront costs and to augment limited internal resources" says Ayal Tirosh, Sr Research Analyst at Gartner.
Ilia Kolochenko, High-Tech Bridge's CEO and Founder, comments: "We are honored to be mentioned among the industry leaders of one of the most mature trends on the application security market. At High-Tech Bridge, our security engineers and machine learning experts are committed to delivering value to our customers by continuous research and perfection of our technologies. Many exciting announcements are coming this year, please stay tuned."
High-Tech Bridge has recently announced availability of its proprietary IAST technology to reinforce existing DAST and SAST capacities for both web and mobile applications. High-Tech Bridge was also recently named a Cool Vendor in Gartner's May 2017 research "Cool Vendors in Security for Midsize Enterprise 2017".