ImmuniWeb and CERT.LV Join Efforts to Fight Cybercrime
December 13, 2021
ImmuniWeb will support CERT.LV educational and cyber-defense activities to prevent financially motivated cyber-attacks, reinforce cyber-resilience and reduce losses from cybercrime in the region.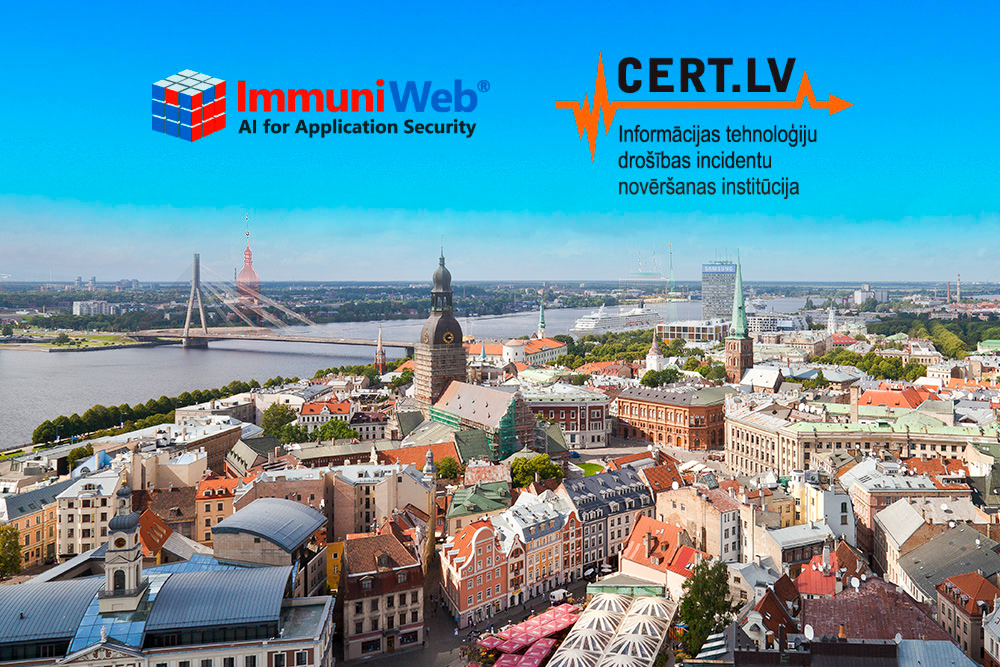 Today, Eastern Europe plays a vital role in the global fight against skyrocketing cybercrime. In September, a global law enforcement operation, involving the French National Gendarmerie, the Ukrainian National Police, the United States Federal Bureau of Investigation (FBI), INTERPOL and Europol, led to successful arrest of ransomware operators suspected of carrying out a series of large-scale attacks, demanding ransoms of up to EUR 70 million.
After signing partnership agreement with the State Cyber Protection Centre of Ukraine in October 2021 to jointly combat cybercrime, today ImmuniWeb is glad to announce a partnership with CERT.LV - the Latvian National and Governmental CSIRT.
The partnership is a coordinated response to the intensified frequency and unprecedented complexity of the cyber threat landscape. The situation is exacerbated by the spiraling pandemic that forced many companies and organizations to reduce their cybersecurity budgets, while working from home (WFH) unfolded a broad spectrum of new attack vectors. According to the CERT.LV Annual Report 2020, the number of cyber-attacks in Latvia has jumped by approximately 30%.
The partnership will bring ImmuniWeb's award-winning technology and industrial know-how into the region to bolster cybersecurity awareness, share cyber threat intelligence (CTI) both with private and public sectors, and help preventing ransomware campaigns and digital fraud that perfidiously exploit the pandemic. ImmuniWeb has been actively supporting the most vulnerable enterprises and organizations around the globe for several years already. The free ImmuniWeb® Community Edition runs over 100,000 daily tests and is used by universities, health care institutions, SMEs and municipal governments from over 70 countries that are looking to test and protect their digital infrastructure.
Andis Steinmanis, Director of Strategic Alliances and Partnerships at ImmuniWeb, says: "We are delighted to join our forces with CERT.LV to curb the rapid proliferation of cybercrime. We all witnessed countless devastating cyber-attacks globally against such essential industries as healthcare, energy sector, public transport and critical national infrastructure (CNI) due to overall unpreparedness of the victims, growing sophistication of the intrusions, shortage of cybersecurity skills and insufficient cybersecurity awareness among board members and C-level executives. At ImmuniWeb, we are strongly committed to supporting the sustainable development of the cybersecurity industry by creating the efficient public-private partnerships. We believe that our partnership with CERT.LV will amplify our ongoing efforts and create numerous new synergies to better protect our society from the modern cyber threats."
Baiba Kaskina, the General Manager of CERT.LV, comments: "We highly value every partnership that brings a new perspective to the current cybersecurity environment and helps to raise awareness on cybersecurity issues, thus contributing to the overall cybersecurity level of the state. Incident prevention and resilience building is challenging as attackers usually are one step ahead, but joint efforts will have greater impact on stopping adversaries and moving towards making internet into a securer place."
The mission of CERT.LV (Information Technologies Security Incident Response Institution of the Republic of Latvia) is to improve the security of the Latvian cyberspace. CERT.LV was founded in 2011 and since September 2016 institution is certified by the Trusted Introducer and has become one of the leading cybersecurity incident response organizations in Europe. CERT.LV has developed several tools that can help to identify possible cybersecurity threats and its experts have been invited to perform reviews of other European cybersecurity incident response teams.
What's next: