New Features of ImmuniWeb MobileSuite
February 28, 2020
New set of features makes mobile application penetration testing with ImmuniWeb MobileSuite even faster, easier and cost-efficient.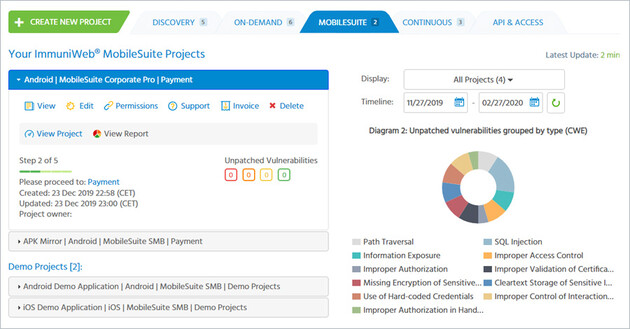 Following our January's ImmuniWeb Portal update, we are now happy to present new features and functions of ImmuniWeb® MobileSuite.
ImmuniWeb MobileSuite leverages our award-winning AI and Machine Learning technology to augment and accelerate mobile penetration testing. We deliver scalable, rapid and DevSecOps-enabled mobile app and backend testing with tailored remediation guidelines and zero false-positives SLA.
Among the newly introduced improvements:
In-depth coverage of security and privacy checks from OWASP Mobile Security Testing Guide, including complicated variations of the tests.
Possibility to upload source code instead of a binary within Corporate Pro package. You don't need to compile your apps anymore, just upload the source code and we will do the rest.
Discount for identical mobile apps for iOS and Android platforms now can be requested directly on the project creation page in a fully automated and easily consumable manner.
We appreciate valuable feedback from our clients and partners, more exciting features and options are coming soon, please stay tuned!
What's next: