AI-Driven ImmuniWeb Neuron Brings Intelligent Automation to Web Security Scanning Market
June 8, 2022
ImmuniWeb® Neuron to be the first AI-automated solution for web and API security scanning with a contractual zero false positives SLA for on-premise or cloud-native apps.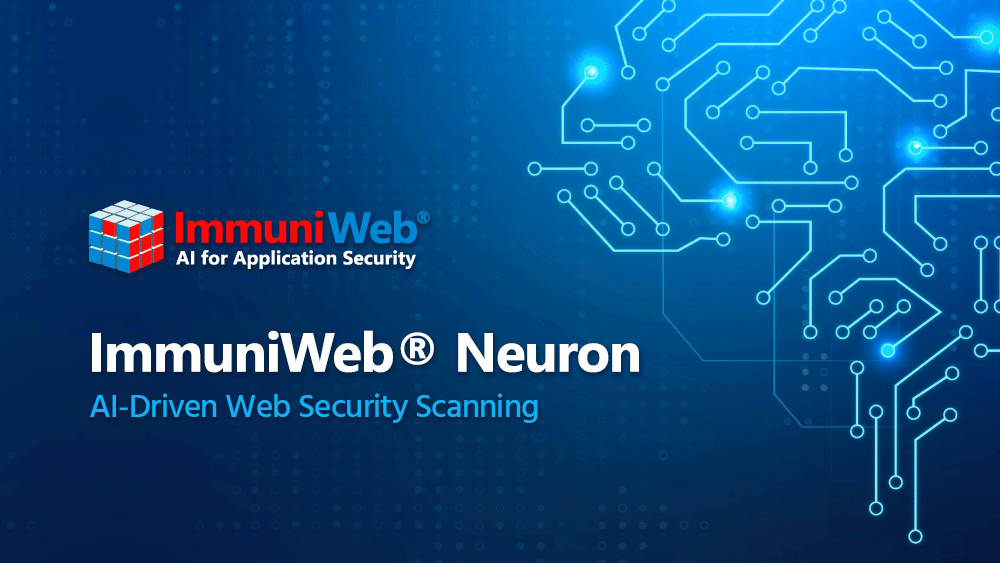 Since 2019, the award-winning ImmuniWeb® AI Platform has been successfully providing hundreds of enterprise customers from over 50 countries with web, mobile and API penetration testing services on the rapidly growing global application security market projected to attain $12.9 billion in two years. ImmuniWeb pioneered with practical usage of Machine Learning and AI for intelligent automation and acceleration of time-consuming tasks and processes, and have been recognized for its innovation by market analysts from Gartner, Forrester and IDC.
Today, following several years of research and development, ImmuniWeb's award-winning AI technology is incorporated into ImmuniWeb® Neuron – a web application and API web security scanning solution available via a flexible SaaS subscription. ImmuniWeb AI Platform now offers 5 mutually enhancing and complementary products with 20 use cases.
By adding fully automated web and API security scanning into its offering, ImmuniWeb becomes the only platform to comprehensively address security for the entire application stack in a multicloud, on-premise and hybrid environments: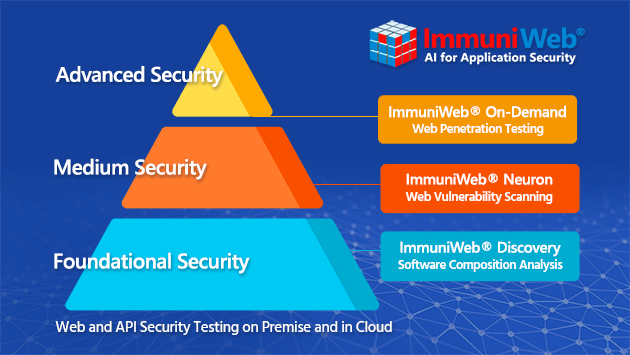 Leveraging ImmuniWeb® AI Platform for Web Security Testing
ImmuniWeb Neuron is designed to rapidly scan tens, hundreds or even thousands of web applications and APIs for vulnerabilities, weaknesses and misconfigurations. It can be natively integrated into your CI/CD pipeline, enabling 100% automation of application security, privacy and compliance testing prior to deploying new code into production environment. The entire process of web scan configuration, scheduling and management is fully automated and can be performed by customers in a few clicks.
ImmuniWeb Neuron leverages our proprietary Machine Learning engine to detect more vulnerabilities and provide a zero false positives SLA corroborated with a contractual moneyback guarantee if you spot a single false positive in your report. Moreover, every license is equipped with a 24/7 technical support available via ticketing or by email if your software developers or DevOps engineers may have questions or need assistance.
Combined with ImmuniWeb® Discovery for external Attack Surface Management, ImmuniWeb Neuron ensures that no single application, API or web service remains unknown or untested. When enhanced with our Cyber Threat Intelligence and Dark Web Monitoring capabilities, ImmuniWeb Neuron brings additional certainty that sophisticated phishing campaigns or password spraying attacks will not ruin your application security efforts.

ImmuniWeb® Neuron RBAC Dashboard
For application penetration testing, required by numerous security standards and laws such as PCI DSS and GDPR, ImmuniWeb continues offering a full spectrum of web, mobile and API penetration testing solutions accredited by CREST.
Ilia Kolochenko, Chief Architect & CEO at ImmuniWeb, says: "ImmuniWeb Neuron is a major milestone for the ImmuniWeb® AI Platform that now provides a full spectrum of web application security testing of any type and complexity.
Designed both for large enterprise customers and SMEs, ImmuniWeb Neuron provides simplicity, agility and cost efficiency, taking your application security program to the next level. Combined with other products available on our award-winning Platform, ImmuniWeb Neuron comprehensively addresses emerging risks, novel threats and attack vectors in a holistic manner.
We are grateful to all our customers and partners around the globe that inspire us to work hard and relentlessly innovate to deliver value and excellence. More exciting announcements are coming soon, please stay tuned."
Online sales of ImmuniWeb Neuron are scheduled to start on July 4, 2022, however, product demos and trials are already available as of today. Webinars for customers and partners will be announced soon.
What's next: