High-Tech Bridge Supports OWASP as a Corporate Member
April 10, 2018
OWASP application security community welcomes High-Tech Bridge as a Corporate Member to support OWASP London chapter (UK).
High-Tech Bridge has become the official supporter of OWASP Foundation as a Corporate Member, supporting the organization and its London Chapter in particular.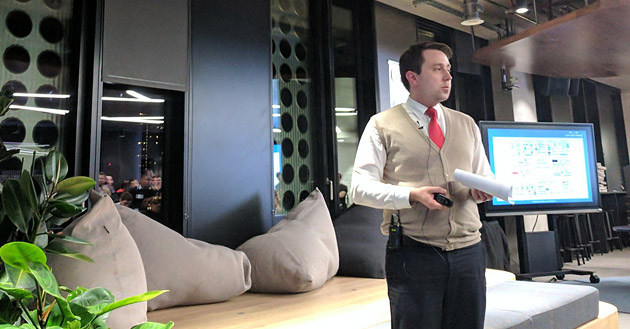 High-Tech Bridge's CEO presents at OWASP London meetup, February 2018
High-Tech Bridge's award-winning Application Security Testing Platform ImmuniWeb® leads innovation in the application security industry by leveraging intelligent automation (AI/ML) for application security testing.
A well-known and globally trusted portfolio of our free web security services, from web server security test to mobile app security scanner, brings awareness and visibility of emerging web security risks to the application security community, developers and consumers.
Ilia Kolochenko, High-Tech Bridge's CEO and Founder, comments: "Since over a decade, OWASP foundation and its projects ameliorate awareness and bring trust to the application security industry, making it open and sustainable.
At High-Tech Bridge, we are also strongly committed to support the community via our free products and services. We look forward to join our efforts and technical expertise with OWASP for the community benefit."
The Open Web Application Security Project (OWASP) is a worldwide free and open community focused on improving the security of software. Our mission is to make application security "visible,"​ so that people and organizations can make informed decisions about application security risks.