ImmuniWeb Receives the Elite "Hall of Fame" Status in SC Media's Reboot 19 Innovator Award
January 7, 2020
The top-level recognition is awarded exclusively to cybersecurity vendors recognized as Industry Innovators for three consecutive years by SC Media Labs market research.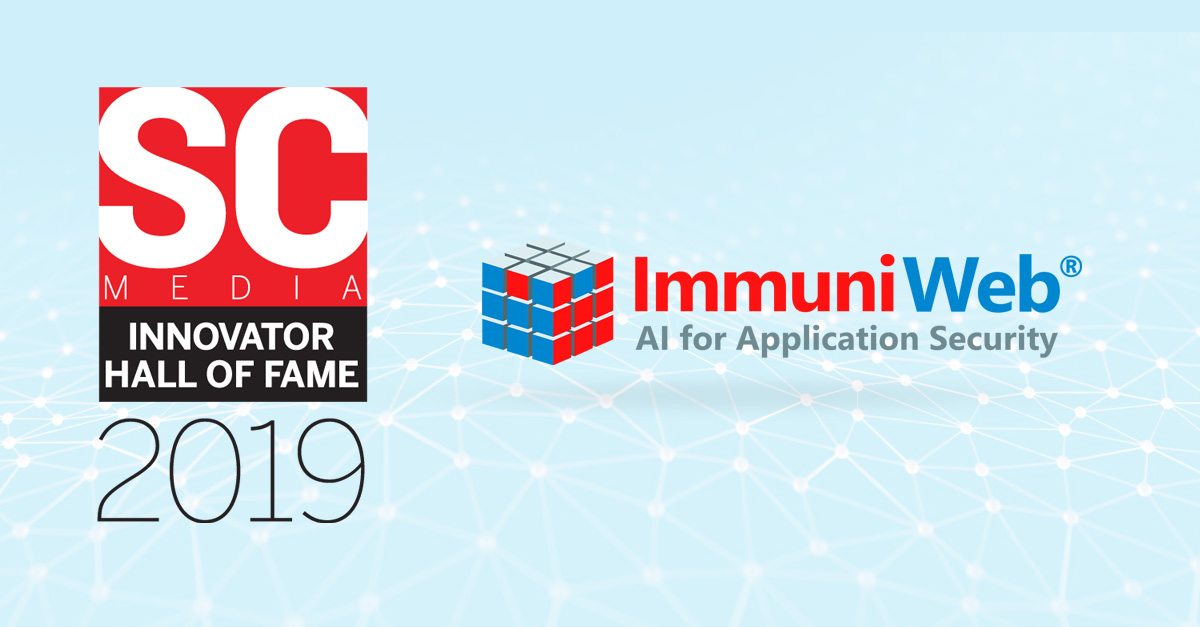 SC Media delineates the five awardees including ImmuniWeb as "true elites in cybersecurity innovation" among over forty cybersecurity leaders including Fortinet, LogRhythm, CrowdStrike, Bifdefender and Veracode honored in the SC Media's Reboot 19.
ImmuniWeb's practical usage of Machine Learning and AI are particularly highlighted by the editors both for intelligent automation of Application Penetration Testing and security risk scoring for Attack Surface Management.
The research further says: "ImmuniWeb® AI Platform "immunize" organization assets, including applications, cloud, public code repositories and IoT devices, against malicious attacks without the need for software, cloud resources or on-premises equipment. ImmuniWeb requires no software or equipment. Businesses need only register on the Platform to receive desired services."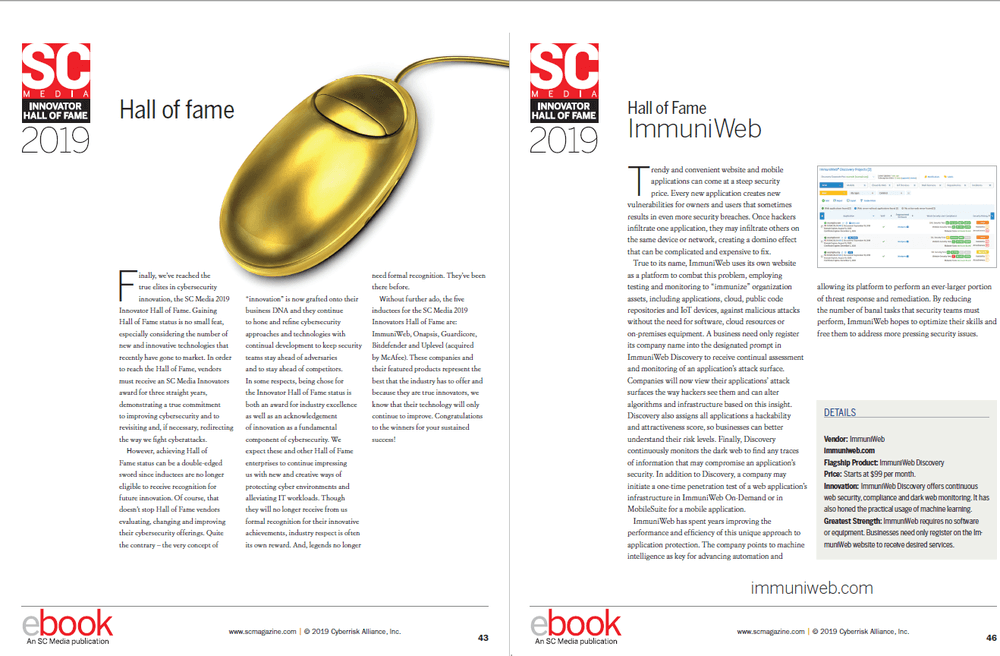 © SC Media's Reboot 19, Hall of Fame
According to SC Media, gaining Hall of Fame status is no small feat, especially considering the number of new and innovative technologies that recently have gone to market. In order to reach the Hall of Fame, vendors must receive an SC Media Innovators award for three straight years, demonstrating a true commitment to improving cybersecurity and to revisiting and, if necessary, redirecting the way we fight cyberattacks.
Ilia Kolochenko, CEO & Founder at ImmuniWeb, comments: "We are delighted and honored to receive this elitist status in one of the most prestigious awards that fully reflects our relentless commitment to deliver value and excellence to our customers and partners. We are continuously improving our technology and augmenting our award-winning Platform with new features and unique capacities. We are grateful to everyone who has been supporting us during these great years of innovation and creativity. More exciting news are coming soon, please stay tuned."
SC Media says: "The very concept of innovation is now grafted onto ImmuniWeb's business DNA and they continue to hone and refine cybersecurity approaches and technologies with continual development to keep security teams stay ahead of adversaries and to stay ahead of competitors. In some respects, being chose for the Innovator Hall of Fame status is both an award for industry excellence as well as an acknowledgement of innovation as a fundamental component of cybersecurity."
To identify and ultimately select our 2019 Innovators, the SC Media team drew input from a number of sources, including the SC Labs testing groups, conferences, ongoing research and professional referrals. The editorial staff reviewed and evaluated the final list of potential candidates using criteria that include product capabilities, completeness of vision and company culture before selecting the honorees. This year's Innovators section was reported on, organized and penned by SC Labs consultant Cortney Wilmering.