SC Media names High-Tech Bridge's CEO a "Thought Leader"
August 24, 2017
High-Tech Bridge's CEO and Founder, Ilia Kolochenko, is named a "Thought Leader" by SC Media Reboot Leadership Awards 2017.
High-Tech Bridge's CEO and Founder Ilia Kolochenko, is one of the honorees named in the "Thought Leaders" category unveiled in the inaugural SC Media Reboot Leadership Awards.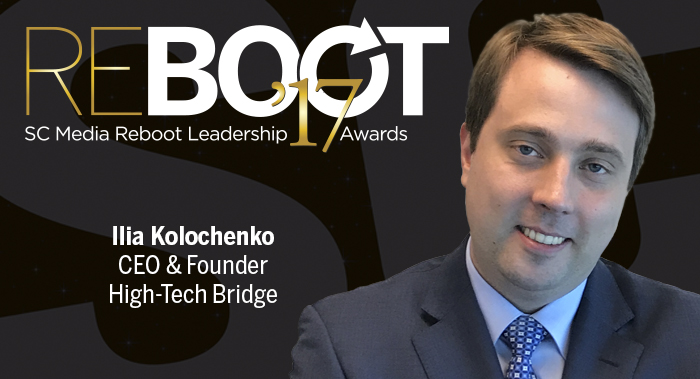 This prestigious nomination especially highlighted Ilia's contribution to the cybersecurity industry and numerous application security innovations invented, designed and used at High-Tech Bridge's award-winning Application Security Testing Platform ImmuniWeb®.
Designed and launched to showcase and acknowledge industry luminaries who are positively impacting and advancing the cybersecurity arena, the awards program is an extension of SC Media's annual Reboot edition. In that end-of-the-year special, which is both published in magazine form and in an exclusive, expanded section at SCMagazine.com, the almost 30-year-old brand's editorial team identifies the best and brightest cybersecurity professionals and their many achievements.
"Businesses today are increasingly under threat by a range of cybercriminals," said Teri Robinson, Executive Editor, SC Media. "The cybersecurity leaders we're celebrating with these leadership awards are on the frontlines every day to help defend and protect our critical systems, data and privacy from their attacks. To showcase their advances is SC's honor."
Ilia Kolochenko says: "I am honored and excited to be selected among the cybersecurity visionaries and leaders by one of the most recognized and trusted awards in the industry. It's a great validation of our growth strategy and technology vision that we have at High-Tech Bridge. I am very grateful to everyone who supported this nomination and was helping me to get it, especially to High-Tech Bridge's team."
"With the record-setting number of cybercrimes hitting both private and public sectors across the globe, it has never been more important to acknowledge the vital work leading cybersecurity professionals are undertaking every day to protect organizational infrastructures, data, privacy and people," said Teri Robinson, executive editor with SC Media. "The information security professionals honored by these awards are indefatigable in their efforts to continue to better the larger industry and ultimately protect people and their privacy. We are thankful to honor these cybersecurity leaders with these awards."