Bug Bounty Programs
How They Can Help Secure Business
Bug bounty program is an offer by companies, developers, website owners for security researchers to find bugs and vulnerabilities in their website or mobile infrastructure which can be used by hackers to steal data.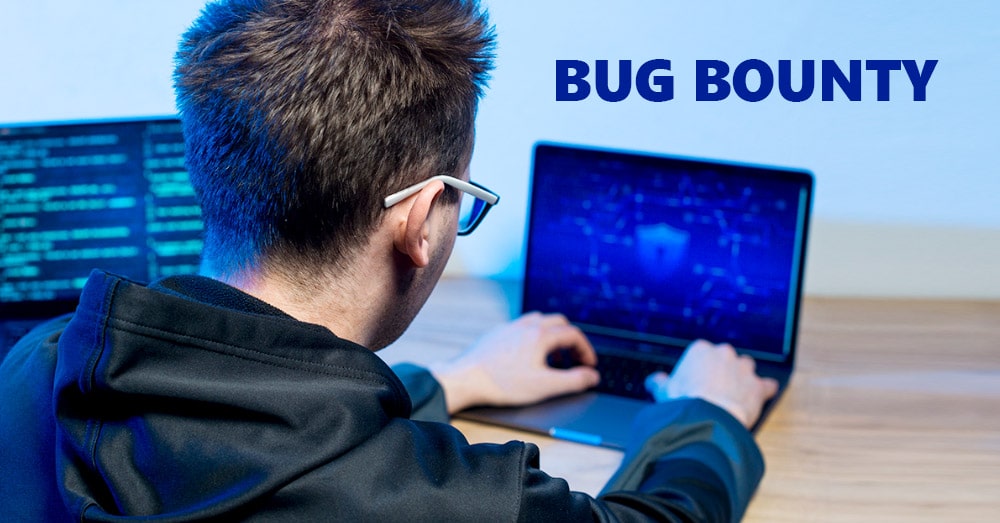 Bug Bounty Programs - How They Can Help Secure Business
What Is Bug Bounty?
The Bug Bounty Program is a process in which a company engages third-party cyber security specialists, known in the industry as white hat hackers or researchers, to test their software for vulnerabilities for a monetary reward. This movement is becoming more and more popular, and today many people are even specially trained to become ethical white hackers and earn bounty rewards from it. Cash rewards aren't the only motivation for bug hunters, however. In the process of finding vulnerabilities, they also improve their skills, build a portfolio and make a name for themselves in the IT community.
Want to have an in-depth understanding of all modern aspects of Bug Bounty Programs - How They Can Help Secure Business? Read carefully this article and bookmark it to get back later, we regularly update this page.
The first bug bounty program was launched back in 1995 by Netscape. So, the white hacker movement has been around for about 25 years. Today, almost all major IT market players pay money for vulnerabilities found, for example: Google, Intel, Tesla, and many others. At the same time, Apple is on its way, as the company has invited several researchers to cooperate and offered them a rather limited range of tasks. So, having found a vulnerability, they should not count on material rewards.
Bug Bounty for Companies
Bug bounty platforms help companies protect themselves against modern cyber threats. The company publicly announces the scope of work, the level of remuneration for found vulnerabilities, and anyone can register and take part in the bug bounty program. The pool of tasks that the business solves through bug bounty programs is even broader. Surprisingly, the bug bounty program is not only about security, although it is primarily about it. Its other functions include reducing reputational risks, promoting a brand in the IT community, working with the community, and improving the skills of full-time information security specialists and developers.
As you can see, the bug bounty program can provide a business with many benefits that are not limited to security issues, but its launch must be approached with the utmost seriousness, ensuring the proper level of availability of technological, human, and financial resources. In practice, not every company can afford to run a bug bounty program on its own. This is due to the fact that most medium and small companies are simply not ready for this. If your company doesn't call Google, Facebook, or Apple, then few people really know about you. Accordingly, when you inform the whole world that you have launched a bounty bug program, it is unlikely that there will immediately appear a line of people who want to join it.
To understand why a researcher should spend time on you and whether you will pay bounties or you disappear when it comes to rewarding researchers' efforts, no one knows for sure, and no one knows how professional you approach the matter. This is a big risk for white hackers. The first thing that a company should have is established processes for dealing with vulnerabilities, or at least it should be able to launch them. Second, employees must be ready to launch the bug bounty program. Finally, money - the company must allocate a budget for payments for vulnerabilities found.
Small companies usually do not have the necessary infrastructure and resources to receive and process reports from developers. They want to know who will verify vulnerabilities, the scope of work, and who will communicate with developers every day. Most companies do not have sufficient experience and qualifications to conduct their own bug bounty program in a quality manner. Therefore, businesses resort to the help of so-called bug bounty platforms, companies that specialize in conducting bug bounty programs.
Bug Bounty Program Process
In the legal field vulnerability searches using bug bounty should be carried out in accordance with the document of the U.S. Department of Cybersecurity (pdf). In general, the process consists of the following sequential stages:
A client contacts a bug bounty platform that wants to conduct a bug bounty program in order to test their products.
Bug bounty platform together with the client make up the scopes of works. This is a document that describes in detail what kind of vulnerabilities the client is looking for, on which resources to look for them, what is the pricing policy, and how exactly the researchers should send vulnerabilities to the platform.
Bug bounty platform publishes the program on its website and launches marketing activities, attracting white hat hackers to participate in the program. From this moment on, the bug bounty program is considered open.
Thus, the bug bounty program begins. Researchers find vulnerabilities in the tested product and send a bug bounty platform to the site through a specialized CRM system.
An internal team verifies each submitted vulnerability. This team checks whether the vulnerability is unique or has already been found by another developer, whether the vulnerability is valid (if it can be repeated), is it within the scope.
After the bug has been verified by the triage team, a report is generated and sent to the client. This is a ready-made bug report, which details how to reproduce it and what to do to eliminate the breach.
The last three steps are repeated in a circle. Large companies can run bug bounty programs for months, sometimes even years. The number of bugs found in one bug bounty program can vary from a few to hundreds.
Bug Bounty Platform Benefits
Any bug bounty program has a number of features that give it some advantages over other methods of searching for vulnerabilities:
White Hat hacker community. The larger the community, the stronger the bug bounty platform, as this is one of the most important parts of it. Companies have been building a community of white hackers for years, spending a lot of effort and resources on the community to keep it growing.
Access to human capital. Hundreds or even thousands of specialists are registered on the bug bounty platform who specialize in different areas - web, mobile, blockchain protocols, payment systems, smart contracts, and the like. Therefore, bug bounty platforms have access to large intellectual capital. This is a kind of outsourcing of cybersecurity services to the whole world.
Testing time. In most cases, a penetration testing usually lasts about a month or two (though we, at ImmuniWeb, offer very fast and scalable penetration testing when the date of the report is known before start. Unlike most ordinary pentests, a bug bounty program can last for several months or more, while all this time researchers will actively try to find vulnerabilities in your product.
Own CRM system. Bug bounty platforms usually have their own CRM systems to handle vulnerabilities sent by developers, as well as its own in-house team of cybersecurity experts, which checks bugs sent by developers. The members of this team are called triagers, and the process itself is called triage. They also communicate with clients.
Commercial Bug Bounty Platforms
Since commercial means generating income, there are already many such platforms and their list is constantly expanding. Here are the most popular bug bounty platforms that companies can use on a paid basis to search for vulnerabilities in their information system:
In fact, this list can still be continued, because new similar commercial bug bounty platforms appear regularly.
List of Free Bug Bounty Platforms
The list of free or low-cost bug bounty platforms looks much more modest, as well as some for open source projects, many of which work on the crowdsourcing principle. And sometimes such platforms work even better than commercial ones:
How to Guarantee Protection from Black Hat Hackers
Bug bounty programs are an innovative approach, and bug bounty platforms help enterprises to effectively conduct these programs, but regardless of whether the company has a bug bounty program or not, there are always risks that a hacker will find a bug and will exploit the vulnerability for bad purposes. In this regard, in addition to the implementation and development of the bug bounty, it is worth implementing other processes that can secure the business, for example, such as code verification, analysis of cases with hacks and data leaks of other companies, as well as raising awareness of your employees with digital security issues. However, to truly ensure the cyber security of your business, it is worth taking advantage of the opportunities that professional commercial penetration testing provides you.
First, you need to conduct a complete inventory of the digital assets you have in order to understand where to look for possible threats.
ImmuniWeb Discovery will help you perform the inventory and can even monitor the Dark Web for possible data leaks, after which it is necessary to make a penetration test of your web applications or mobile applications.
Our world is becoming more digital, products are more complex. Companies are increasingly using online services for their work, while each of them, being updated, may contain vulnerabilities that hackers can use for their own selfish purposes. We must change our mindset and accept the fact that protection against cyber threats can no longer be discrete and can only be a check of software for vulnerabilities from time to time, as in the case of a bug bounty. Information security should include continuous testing for vulnerabilities. This is the only way companies can effectively defend themselves against hackers.
Additional Resources